What Montessori inspired gifts can we buy our toddler?
In this post, I'm going to share some of the Christmas gifts we are buying our little one (K, who is now 19 months old) and also some of her favorite toys and activities in case you are looking for Montessori-inspired ideas for your toddler.
I've seen a lot of questions about Montessori-themed Christmas gift ideas in the Montessori Facebook groups I'm a part of, so I figured this might be a helpful article.
I want to preface this article by saying that gifts are going to be a small part of the holidays for us as a family.
We want to focus more on giving and the gift of spending time with family and friends.
We also heard a great idea from another Montessori parent about gift-giving. Instead of giving their child every gift on Christmas day and having them pretty much forgetting about all but their favorite, they give one gift per day leading up to Christmas.
We are planning to buy K only a small handful of gifts and will most likely use that idea and let her open one each morning leading up to Christmas.
Let's get into my best Montessori gift ideas for toddlers…
#1 – Any Type of "Experience"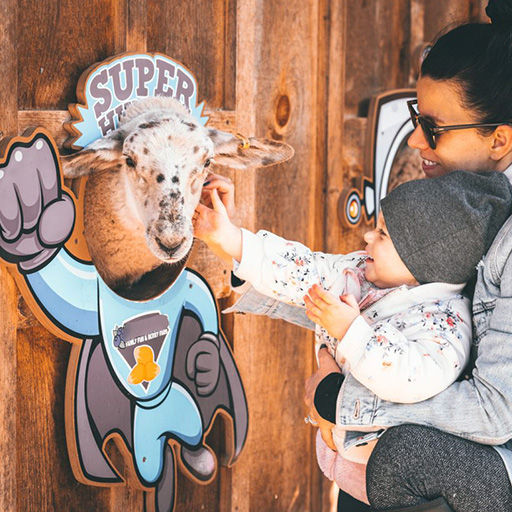 I wanted to include this first because I personally believe these are the best gifts for all ages. Experiences can last in your memory forever, while toys and activities are often forgotten about pretty quickly.
The type of experience you can purchase for your toddler should depend on their current interests and what you have available where you live. Here are some ideas:
Local Children's Museum
Zoo or Farm Experience
Play "Gym" Passes
Swim Lessons
Gymnastic Lessons
At a toddler age of 1-3 years old, it's a little tougher to find experiences, but hopefully the above gave you an idea.
#2 – Cleaning Kit For Toddlers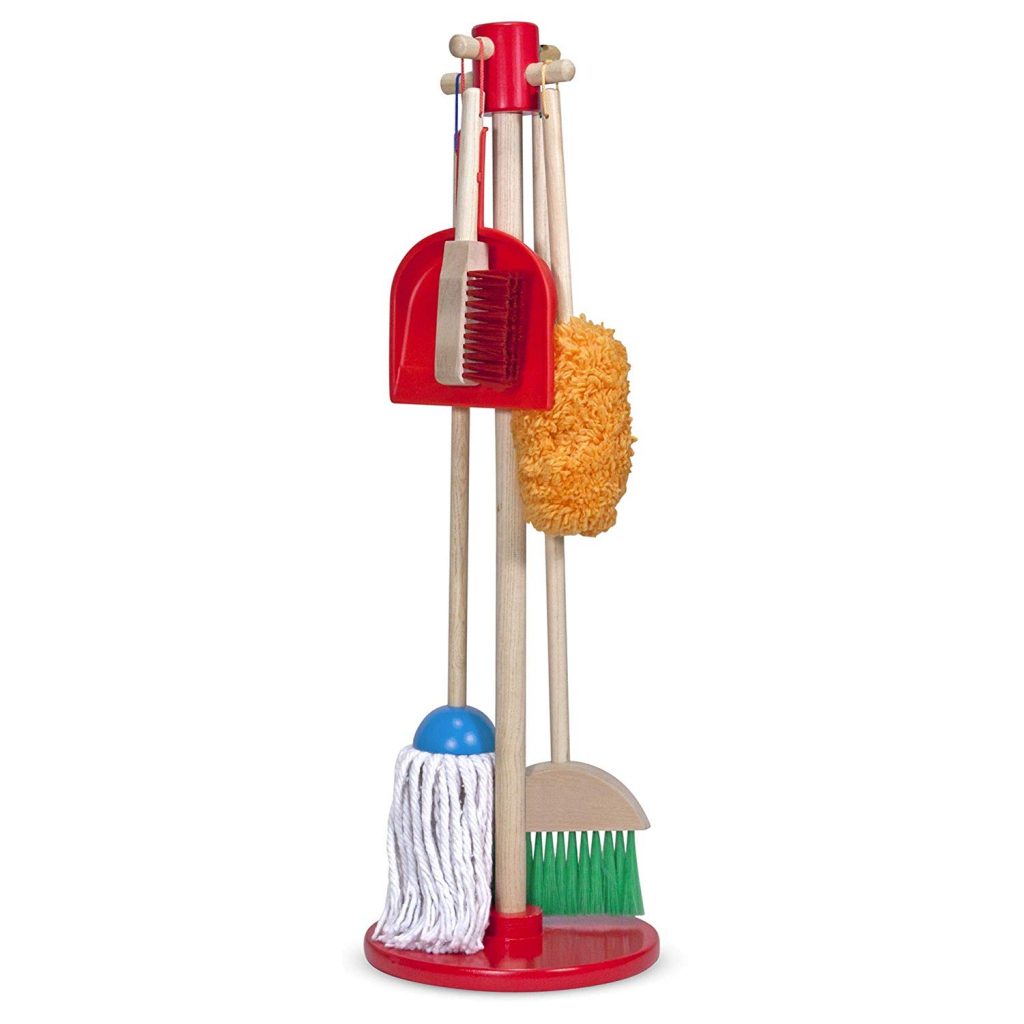 One of our best recent purchases for K has been the Melissa & Doug 6-Piece Kid's Cleaning Set at just $24. This includes a broom, mop, duster, brush, and dustpan. Plus a stand to keep everything tidy and organized.
Cleaning is a great Montessori practical life activity for toddlers, and this kit allows you to teach your little one 4 different ways to help you clean the house.
It will help work on their gross motor skills (moving around), their fine motor skills (brushing things into the dustpan and placing the items back on the rack), and help give them a sense of purpose as they help you around the home.
One of our Christmas gifts for K this year is a toddler Dyson vacuum. We have the same real version of the vacuum and she loves trying to help us vacuum, so we thought this would be the perfect gift idea.
Although it's a plastic battery operated "toy", it actually does suck up small items so it is a functional toy that serves a purpose developing practical life skills.
#3 – Weaning Table and Chairs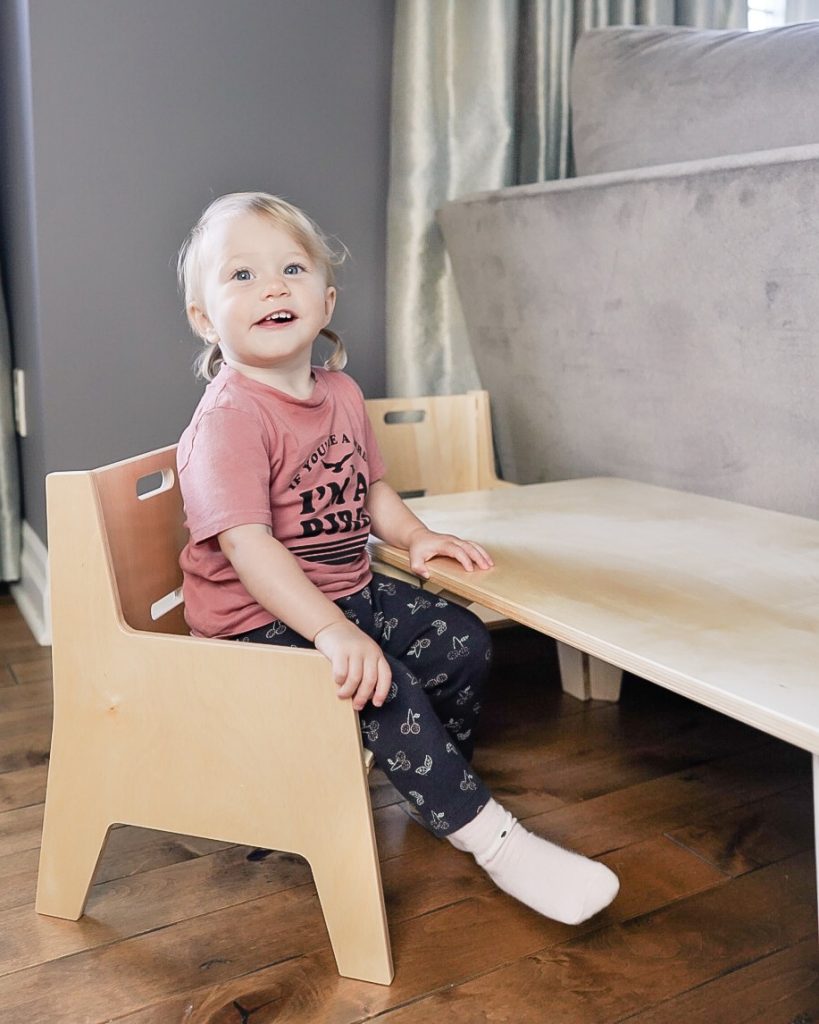 If your child doesn't have a small table and chair set that they can access on their own it would make a great gift.
We bought K the Sprout Kids Weaning Table and Chair set and she loves being able to bring an activity to it and complete it and then bring it back into her playroom (we also always keep one activity on the table).
It's also great for snacks, especially if they have a friend over – nothing is cuter than seeing two toddlers sitting at a little table together.
#4 – Books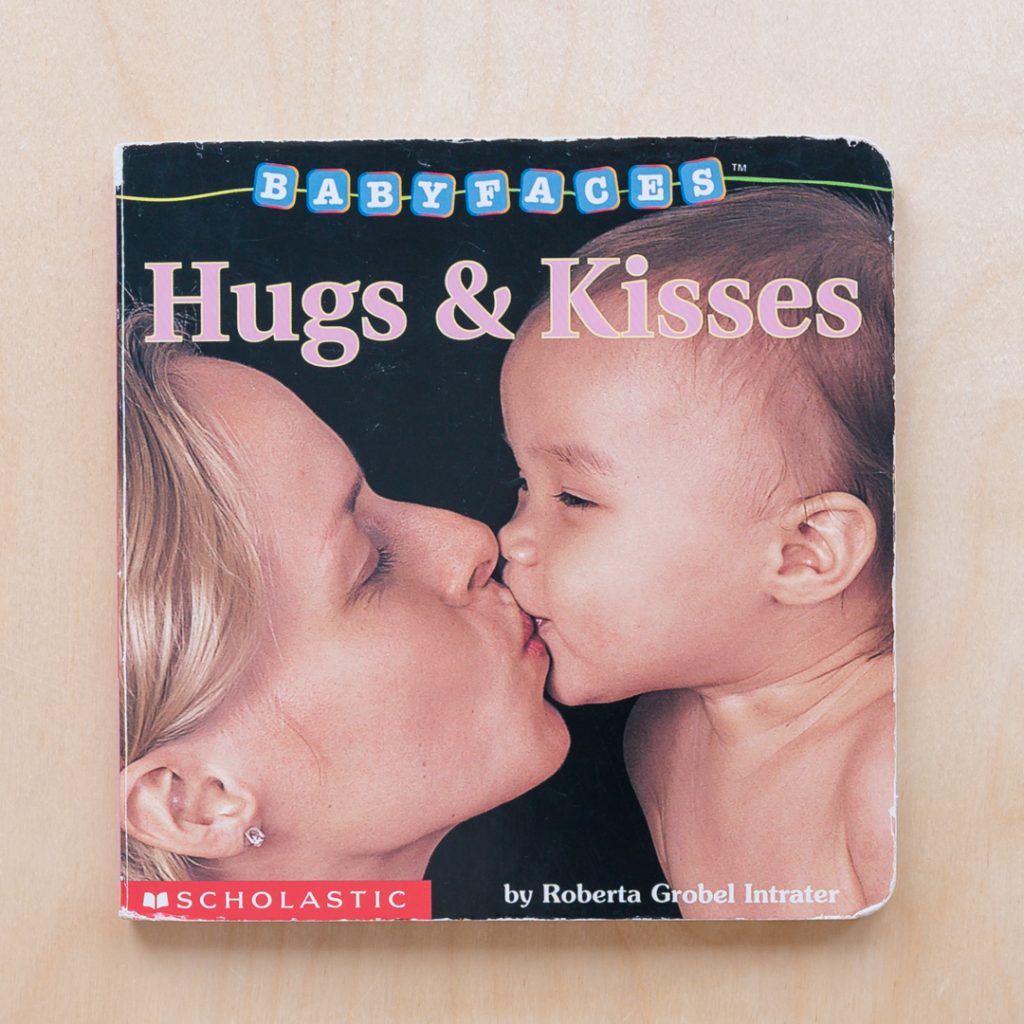 Books make a great Christmas present for everyone and you can never have enough books!
Montessori-style books should be reality-based for the toddler ages (and up until at least 6 years old) and include rich language (avoiding baby talk).
It's also best to choose books that have beautiful illustrations that both the parent and child can appreciate.
I made a post with our favorite Montessori books at 15 months old and Ashley often posts our favorite season books on our Instagram account if you need some ideas.
Although this post is for toddler Christmas gift ideas, a great gift for yourself, spouse or any friends who may be interested in Montessori would be the Montessori Toddler book by Simone Davies.
#5 – Learning Tower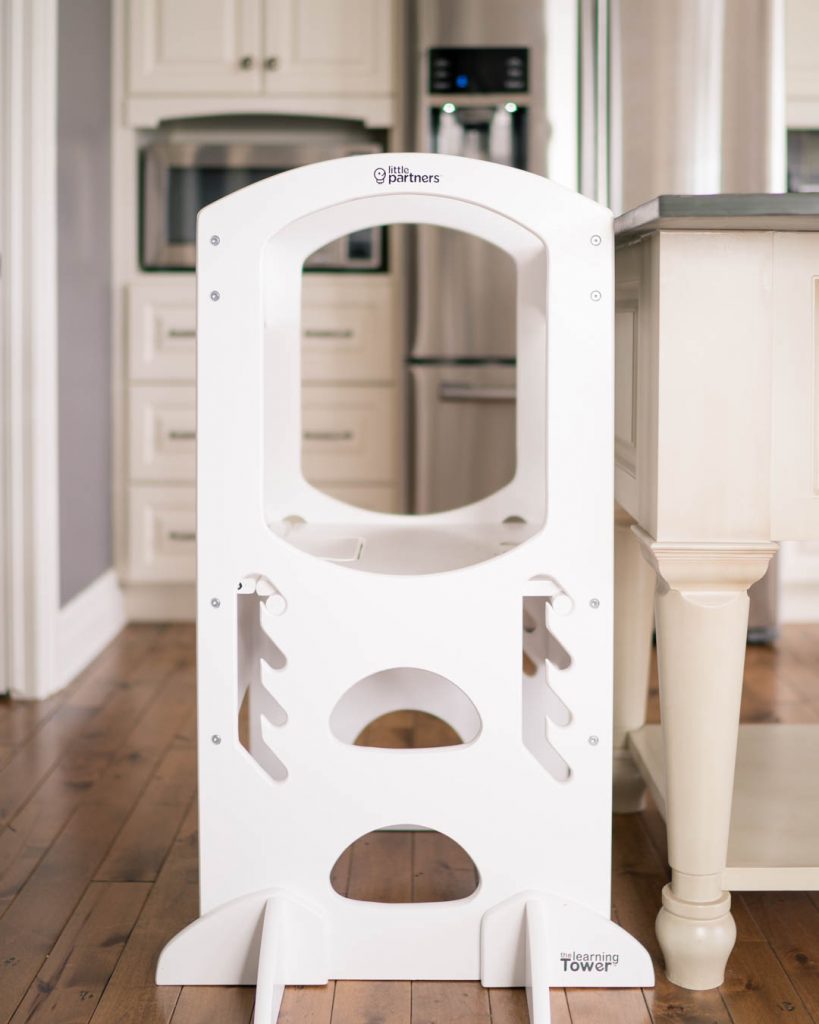 A learning tower is a stool or stand that allows a child to be at counter height in the kitchen.
I call this a "Montessori Must-Have" because without it there isn't really any way that a toddler can see what you're doing in the kitchen and help do practical life activities in the kitchen (such as prepare meals and help wash dishes in the sink).
Our daughter also loves eating snacks at her Little Partners Learning Tower, which is perfect as it allows us to prepare our own food with her in the kitchen with us.
#6 – Indoor Climbing Activities
Toddlers love to move and climb around and a toy or activity that promotes their gross motor skills would make a great Christmas gift.
We recently made a few bigger purchases for our basement, which will soon turn into a little "gross motor skill play area".
The first was a Pikler and Arch set from Wiwiurka Toys. This included a pikler, arch (pictured) and a wooden ramp, slide.
We also purchased an adjustable wooden balance beam from the same company that just got delivered last week.
Other indoor gross motor activities we have for K include stepping stones and a Nugget Comfort Couch that is a kid-sized couch that doubles as a climbing activity/fort builder.
#7 – Musical Instruments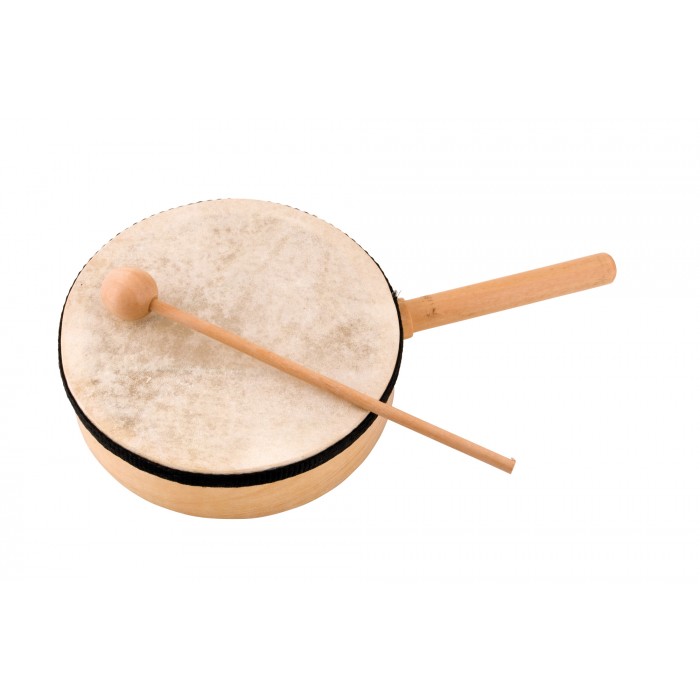 This could fall into the wooden toy department, but I wanted to make it it's own category as I think it can sometimes be a toy category that parents forget about.
There are some scientific studies that show how great learning to play instruments is for a child's development, and it's never too early to get them started learning about the different instruments.
K already has wooden maracas, wrist bells, a tambourine, and a xylophone that she loves. We wanted to buy her some drums and found a great "Tom Boy Drum" and Mallet set for just $14 (pictured above).
If you don't have any of the above instruments they all are great for toddlers!
#8 – Art Supplies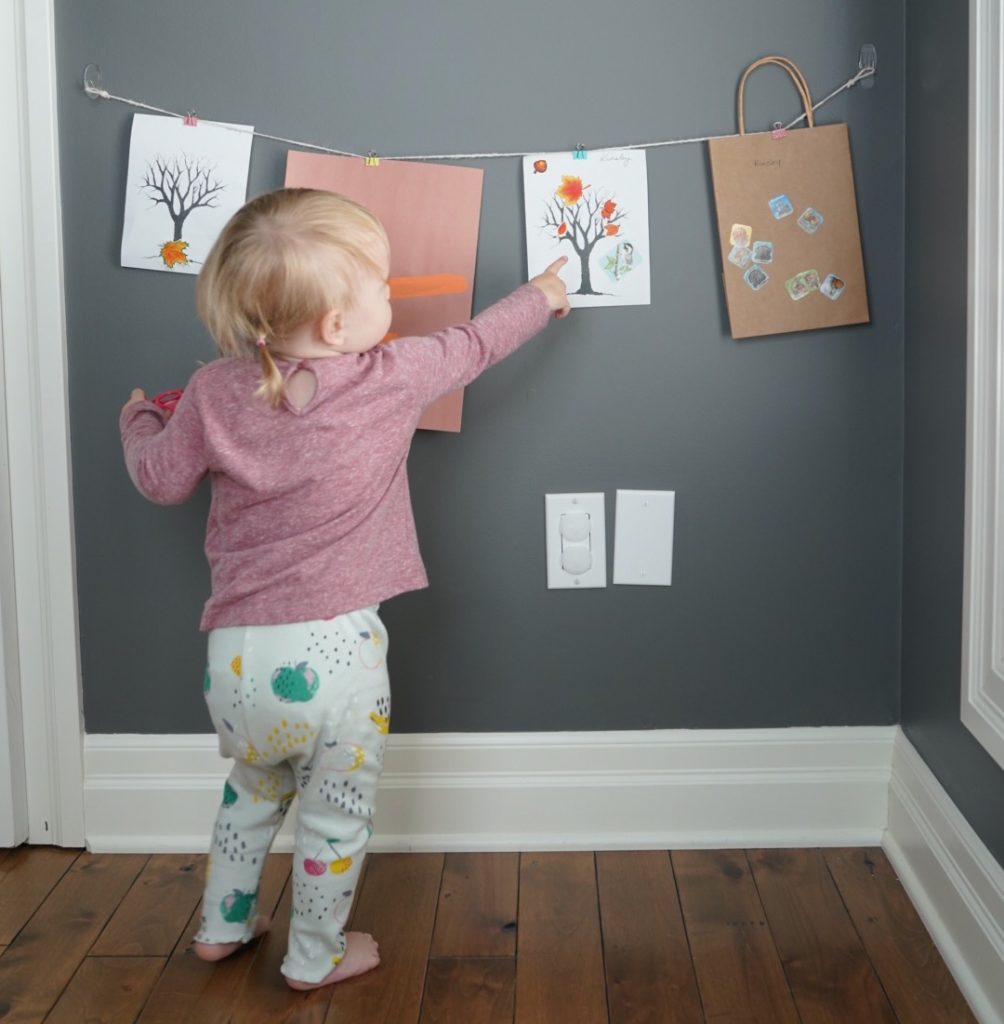 We are on the hunt for some art supplies as a Christmas gift for K. At her Montessori school she is doing a lot of painting, but we don't currently have any toddler-friendly painting supplies at home.
There are lots of painting easels for kids out there, and we are just trying to find the best one for her.
Other great art supplies for toddlers include stickers, crayons or washable markers, and glue sticks and items to be glued (at school they had a cute idea of gluing white spots on cows).
#9 – Wooden Toys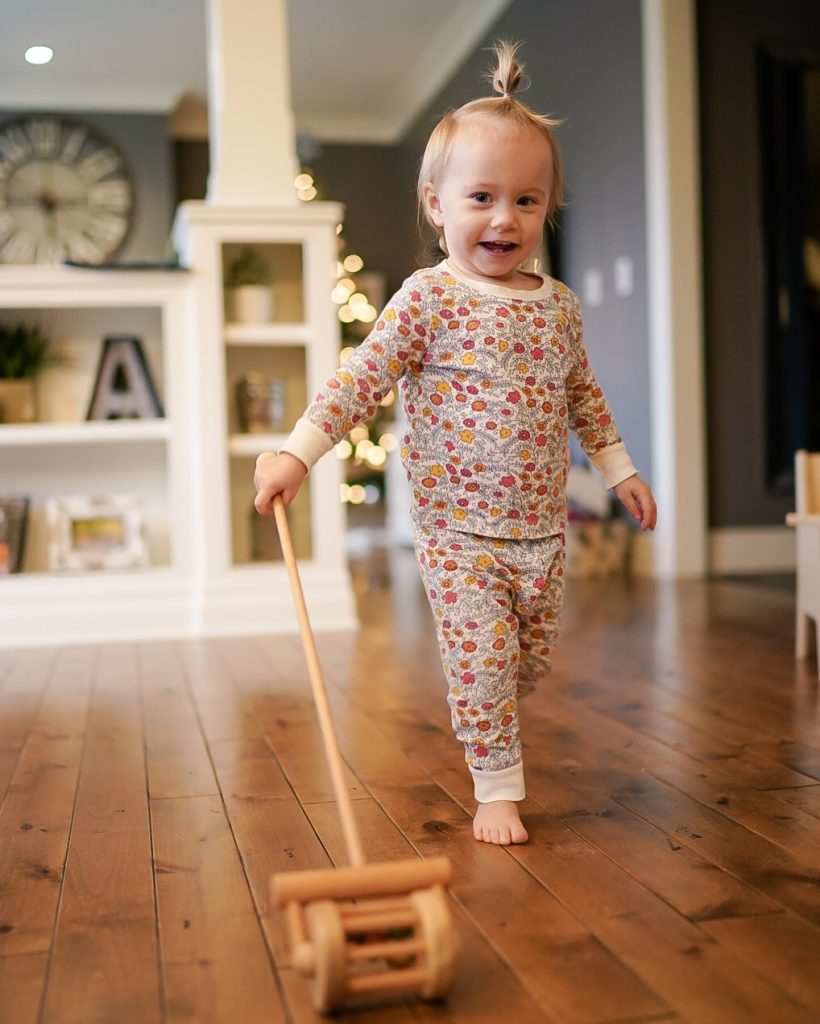 You definitely don't need wooden toys to say that you practice Montessori at-home (despite what some parents new to the Montessori method believe), but they are a beautiful addition to the home.
Although wooden toys can be expensive, they will last a long time and will keep a good resale value (or they would be great to re-gift down the road).
There are plenty of wooden toys to choose from ranging from stackers, to puzzles, to push toys. If you want some ideas you can check out the pictures of our Montessori shelves or our Montessori Toy Guide.
Montessori Christmas Gift Recap
Those are my best ideas for Montessori inspired Christmas gifts for toddlers. Was there anything I missed that you would include on the list?
Thinking outside of the box is tough as most of the advertising we see on a daily basis for kids is based around toys, but as you can see from the list above there are a lot of great Christmas gift ideas that aren't toys that you can buy your toddler.
I'm sure I will be writing another post before then, but from our family to yours we are wishing you a Merry Christmas and Happy Holidays!