Today I want to talk all about Montessori Shelves.
I talked a bit about our Montessori Playroom shelf in the Toy Rotation post I wrote a few weeks back, but in that article, I mainly spoke about rotating toys.
Since writing that post, we've also incorporated a few changes in our (always evolving) Montessori inspired home – and in particular with the shelf in K's space.
What Is A Montessori Shelf?
With the Montessori approach, you always want to be promoting independence in the child when you can.
This means Montessori shelving should be built at a proper height for the child, so they can reach all of the items on the shelf.
Depending on the age of the child, you'd ideally be looking for a height of 1-2 feet for the unit.
Another critical aspect of the Montessori style shelving is that the front is completely open (with no doors) so that everything is on display for the child.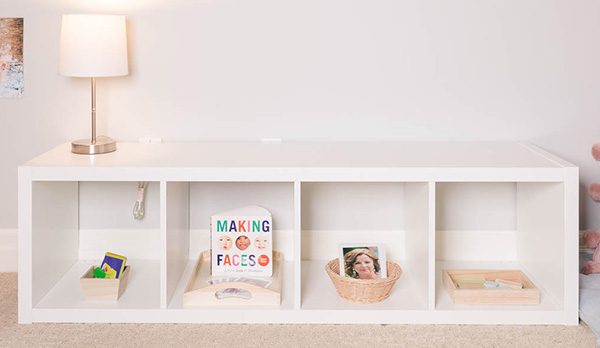 This invites them to engage with the activities.
While there are companies out there that build Montessori specific shelving units, many shelving units out there fit the criteria for a "Montessori Shelf."
How Should I Set Up My Montessori Playroom Shelf?
Our playroom shelf has gone through a lot of changes over the past months, but we are finally getting close to a correct Montessori shelf set up.
If you look at a Montessori classroom, you will often see the following with the shelving:
Activities at a height that all children can reach
Activities on display so the children can see them (not tucked away)
Activities aren't too cluttered (fewer options)
Activities are on usually on trays
We've slowly transitioned our playroom shelving to more closely resemble a Montessori school over the past few months.
Not A Great Shelving Example:
We started with way too many activities and toys on our shelf. Some cubbies had multiple toys in them. There were no trays or baskets to help K move the toys to the carpet and back to the cubby. And we even had a toy out of reach.
Then We Cut Back On Toys/Activities:
This one was much better, as we limited the number of toys and activities.
(Fewer options is a great way to promote focus and let them master individual skills.)
But there were two minor problems with the Montessori inspired shelf setup pictured above…
Our Current Montessori Inspired Playroom Shelf:
We later learned from The Montessori Toddler book written by Simone Davies: "A completed activity is less attractive to a toddler than one that has been left undone."
And that makes sense. If a child sees one of their activities undone or unassembled, they are probably more likely to want to put it back together.
We now try to leave her activities unassembled in the shelf to encourage her to work on them.
The second change that we've implemented is to start using trays and baskets for the activities.
Having the activities on a tray will make it easier for the child to transport the activity to the carpet (or whenever they are going to work on the activity).
The trays also make it much easier to clean up and put back (something we are still working on)!
Will We Be Making Further Changes To The Shelf?
Although we are relatively happy with how far our shelf has come for K, there are some more changes we've talked about.
As you can see from the image above, not every activity has a tray or basket, and some of the baskets don't have handles.
We want to make it as easy as possible for K to use each activity, so one of our next purchase may be more trays with handles.
And lastly, we have two items out of reach currently for K (the globe and plant), which we will most likely move down to her height once we find a place for each. She's at an age now where we hope she can be responsible 🙂
Where Can I Find Montessori Shelves?
You should be able to find the Montessori style shelving units at any big furniture store that sells wooden furniture for children.
Our shelf wasn't specifically designed for Montessori homes, but it meets the criteria. We purchased ours at Ikea.
If you are looking for shelves that are specifically designed for Montessori homes and classrooms, I highly recommend Sprout Kids (Use coupon code OMJ for 10% OFF)!
We have an infant shelf from Sprout in our basement and have a second (larger) Montessori infant shelf on the way for Baby #2's Montessori bedroom.
We also have a Sprout Kids weaning table and Toddler Wardrobe and are extremely happy with all purchases from them. Remember to use OMJ at checkout for 10% OFF.
Want Montessori Shelf Updates?
From time to time, we will be posting pictures of our shelving and talking about the different activities we have on the shelf on our Montessori Instagram Account @our.montessori.journey.
Give us a follow if you want some Montessori shelf updates 🙂 – here's an example shelf post that we've made…
Grimms Stacking Bobbins – K enjoys putting these on the pegs, stacking them and since she has started showing interest in colors we label the colors for her.
DIY TOOB Cards – A new TOOB Language set. These are great for matching and language development.
Pictures of Friends – We received Christmas cards from friends with their littles and K LOVED them. She carried them around the house, fed them snacks, and practiced saying their names. We had done photo baskets like this before with family but thought it would be fun to switch it up with pictures of her friends.
The Mitten Activity – This activity is for the book The Mitten. If you aren't familiar with the book, animals squeeze into a white mitten until the bear sneezes, and they all fly out. While we read the book K places the animals into the white mitten we have on her shelf.
Sing-Along Basket – This basket has 5 different songs with actions that K can choose and we will sing for her when we are in the playroom with her.
Elastic Band Work – K has never done work with elastic bands (at home) but always seems intrigued by them when she spots them in the cutlery drawer while helping put things away, so we put together this activity for her shelf.
Wooden Pull Toy – This one always seems to be a favorite when it comes out. I think because it mimics walking our dogs, which is still something she likes to help with (holding their leashes). When she grabs it off the shelf we will ask her "are you going to walk the dog" and she will nod yes, wave and say "buh-bye" as she does laps around the main floor.
Matching Lids – Lately, K has wanted to take the lids off and put them back on, so this is a simple activity to help her practice this skill and also matching the right size lid.
Thanks for reading and I hope this helped you get some ideas for your Montessori shelves!