Montessori parenting style or not, I think every parent should invest in a learning tower.
We picked up the Little Partners learning tower when K was about 14 months old and it has been my favorite investment to date.
In this article, I will share some background information on what a learning tower is, why it's often recommended for families practicing Montessori at home, and give my review on the Little Partners tower we purchased.
What Is A Learning Tower?
A learning tower (also known as a kitchen buddy) is a step stool designed to be used in the kitchen by toddlers.
Unlike a regular step stool, a learning tower has safety features that make it safer for young children who make be subject to losing their balance.
All learning towers are different, but generally, they have steps that allow the child to climb up onto the tower on their own and four-sided railings to prevent falls.
Why Are Learning Towers Recommended For Montessori Families?
The Montessori Method promotes independence in your child, and a learning tower is an excellent way to do that.
With a learning tower, children are able to perform tasks in the kitchen that they wouldn't normally be able to do until they are much older and can reach the counter.
This can include getting their own snack or water, helping to prepare meals, or using the sink to wash dishes.
As you can see from the above examples, the learning tower is also great for promoting practical life skills in the kitchen (preparing food, pouring, washing, etc) which is another big part of the Montessori approach.
In order to promote independence and teach practical life skills it's important that the child has access to everything at his/her level per the Montessori way – but at home that's often tough, which is why a learning tower is recommended.
Here Are Some Montessori Inspired Activities Our Daughter Is Doing In The Learning Tower:
Watching us prepare her meals (14 months)
Eating breakfast and snacks (14 months)
Learning to peel a banana (14 months)
Helping to prepare her snacks (15 months)
Learning to slice a banana (16 months)
Learning to pour her own water (16 months)
Little Partners Learning Tower Review
We looked at a number of different Montessori style learning towers online and ended up going with the Jolly Jumper Little Partners tower.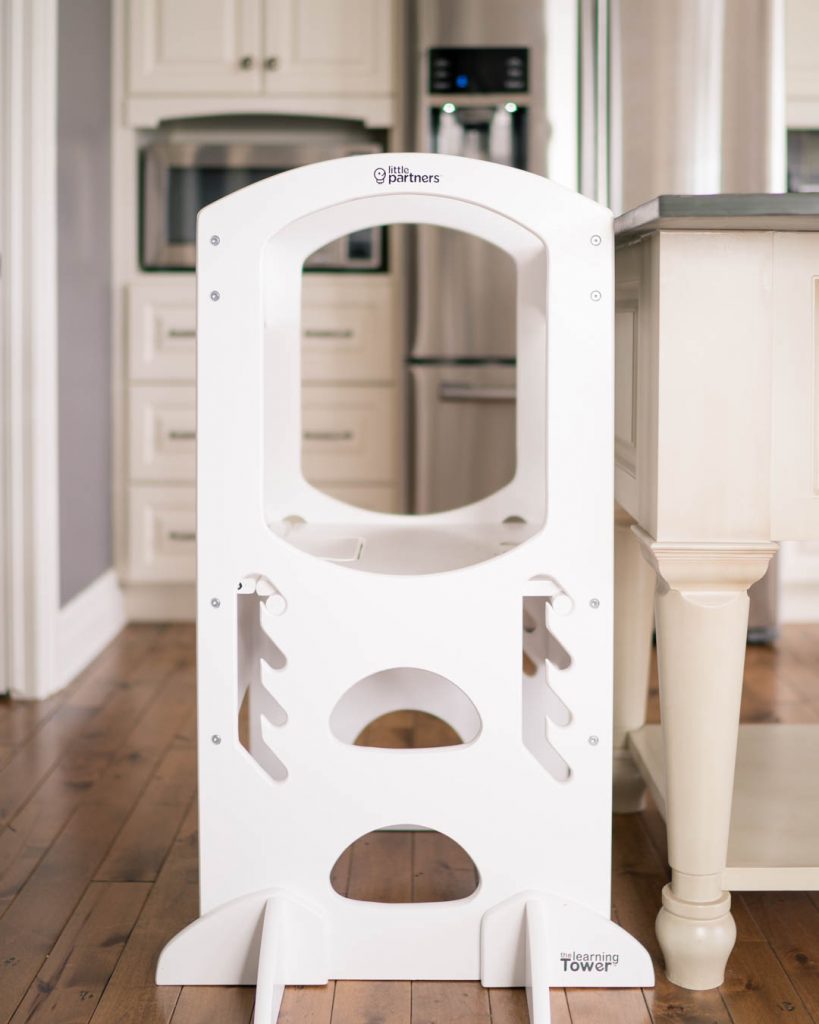 The instructions for building the tower were pretty straight forward and clear and It took about 25-35 minutes to get set up (I recommend using a power drill if you're building this – something that wasn't mentioned in the instructions but saved 20+ minutes).
The tower is extremely well built, solid and sturdy. It seems like it has almost no chance of tipping over, which is something that is obviously important for safety reasons.
Because it was built to be extremely sturdy, it does take up a good amount of room and it weighs just under 30 pounds. This is a piece of furniture that can't be moved around easily (but it is doable if you want to move it for when guests are coming over).
There are four different adjustable heights for the platform of the learning tower which will allow us to use it for many years. Right now K is 16 months and still on the highest platform.
There are two steps on the outside of each side of the learning tower, allowing the child to get up on their own.
K needed some help when we first set it up at 14 months old, but by 16 months old she can now pull herself up pretty easily. She still usually asks for help getting down, although she can get down by herself.
The reviews I read online for this Little Partner Learning Tower were all great, so I wasn't really surprised when we loved it too. The build and quality of the learning tower is top-notch, and it seems to be a perfect fit for our Montessori lifestyle.
If you are following the Montessori parenting approach I highly recommend investing in a learning tower for your little one. And if you want a recommendation – I definitely recommend the Little Partner Tower!