After sharing a few pictures and videos on Instagram of the Lovevery toys we were gifted from the company we've had some messages asking us if it was worth getting them. So, in this post, I wanted to share our experience with the Lovevery Montessori style toys.
What Is Lovevery?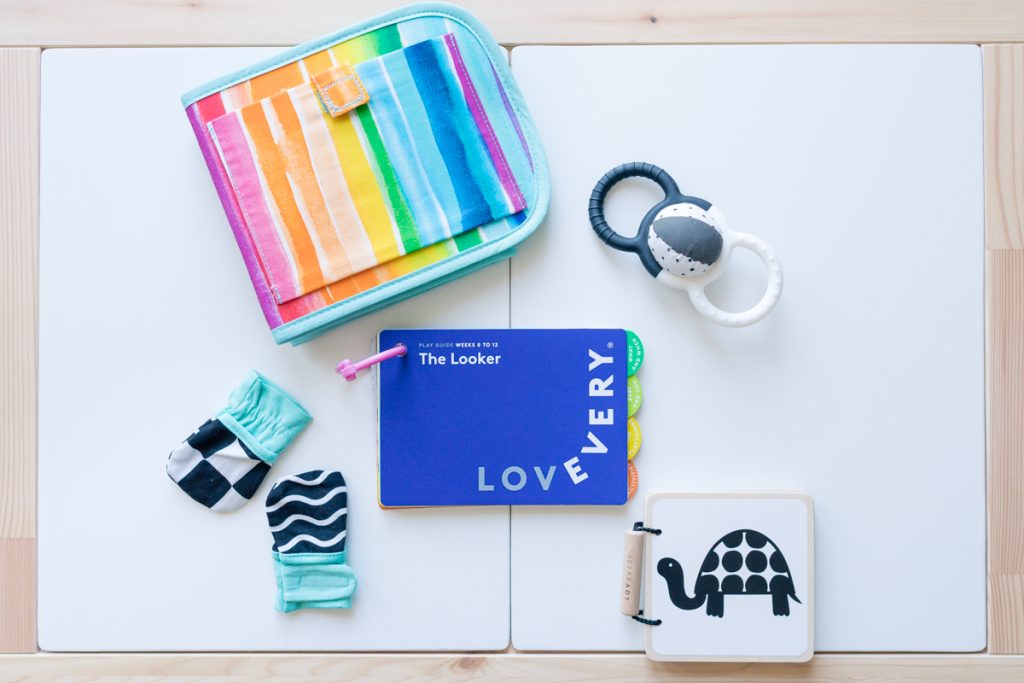 If you are unfamiliar, Lovevery is a company that sells "play kits" for toddlers marketed as a "Montessori-Based Toy Subscription Boxes."
These are delivered as boxes for specific age ranges (a 2 or 3 month range depending on the age) and is subscription-based so you will be delivered new toys as your child grows.
Lovevery's mission statement from their website is "Our goal is to help every parent feel confident. Our play products are designed by child development experts and distilled to their simplest, purest purpose: to be exactly what children need at each stage."
The price is $80 USD per box (with a discount available if you pay for multiple kits upfront).
You can learn more about the Lovevery toy subscriptions at their website Lovevery.com.
What Are Some Examples Of The Lovevery Toys?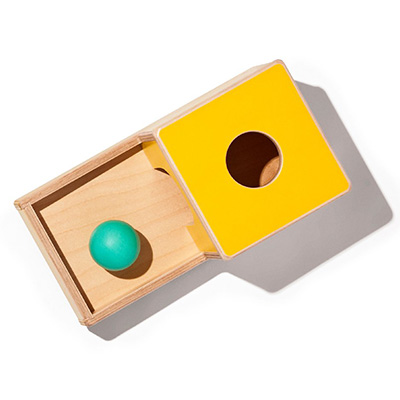 Lovevery has a wide range of toys, including some Montessori staples like stackers, ball drop (object permanence) box, puzzles, coin box, threading, nesting baskets, books, and some classic Montessori infant toys.
But also some very unique toys. Here are a few examples:
Fuzzy Bug Shrub – "Coordinate both hands to pull, stick, and hide the Velcro critters"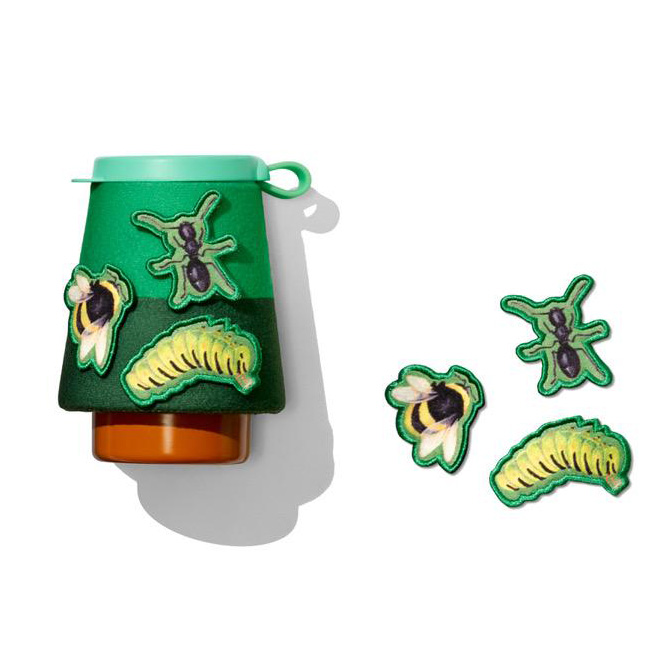 Mouse In An Organic Sleep Sack – "A soft and friendly distraction for diaper time"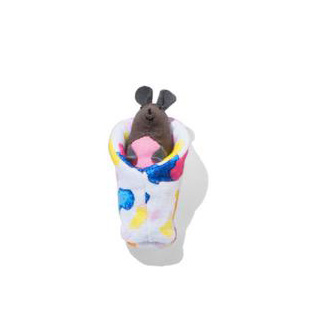 Super Sustainable Sink With Bio-Based Cups and Plates – "They can run the water for hours without it going down the drain"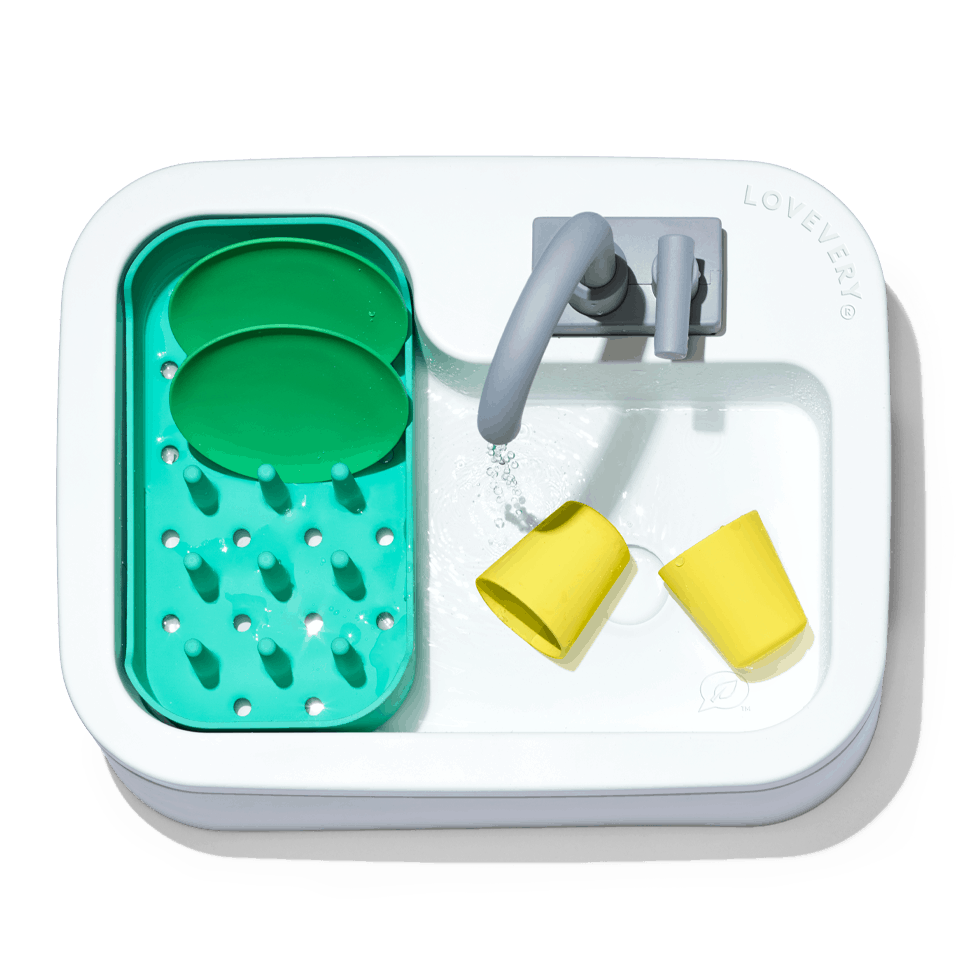 So far we only have one kit (which I will talk about below), but when looking through the kits there were multiple times when one of us would say "What a great idea!" or "We need that one for K!"
The Lovevery toys all seem great and we'll most likely buy more kits to rotate into our home playroom soon.
The Lovevery Infant Kit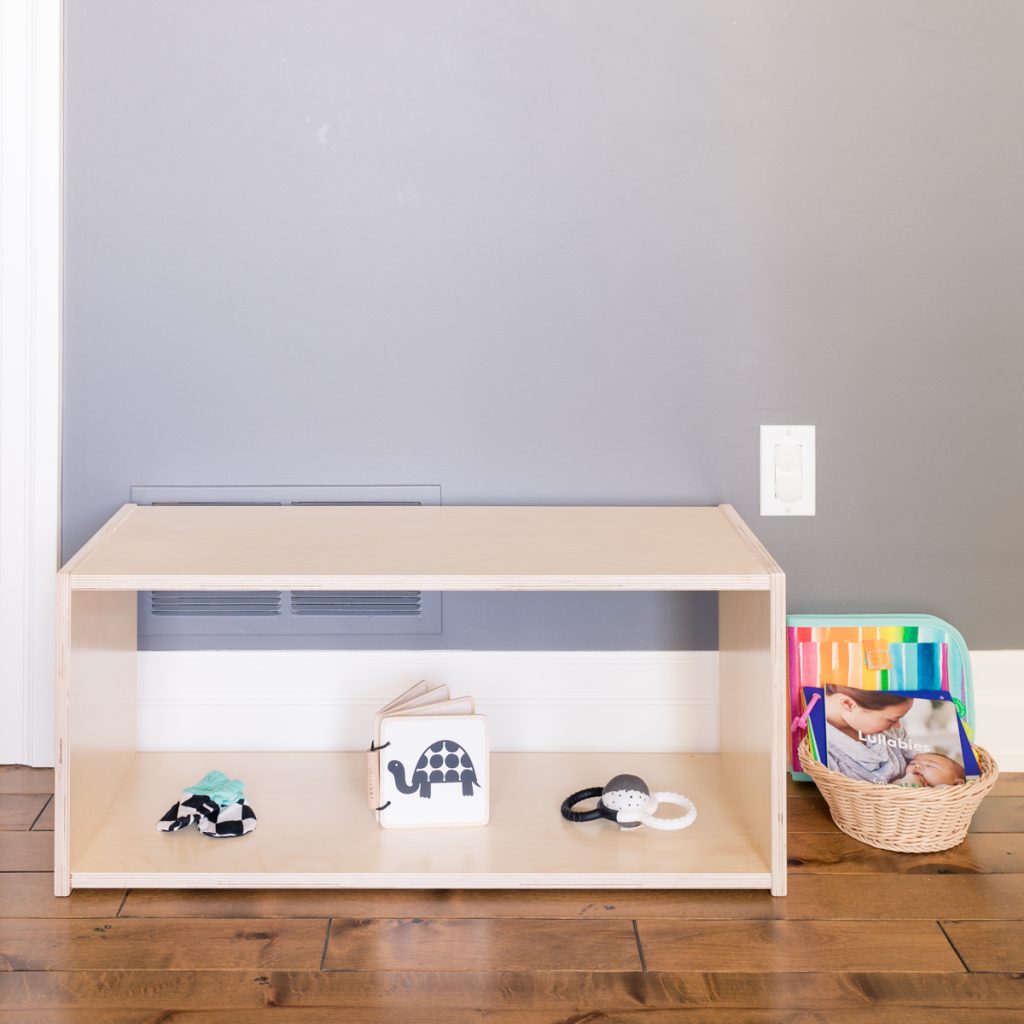 Lovevery sent us the "Looker Play Kit" which is for infants 0-12 weeks. We received the play kit in perfect timing just after E was born.
The infant play kit included:
✨ Mobile – "high-contrast mobiles hung about 8 to 12 inches from his eyes, are ideal for visual exploration"
✨ Black & White Mittens – "hand discovery is an important step on the path to hand control and body awareness"
✨ Wooden Book – "the human voice is the most interesting sound to your baby"
✨ Silicone Rattle With Removable Ball – "watching and hearing a moving object helps fine-tune visual tracking"
✨ Standing Card Holder With Black & White Cards Inside – "when infants look at images that stimulate them visually, the connections between their eyes and brains strengthen"
✨ Lullaby Lyrics Book – "joint experiences between you and your child form the basis of strong relationships"
✨ Travel Card Holder – "gives your baby a chance to explore visually while you're on the go and helps him relax while you're driving"
We also loved that they include a Play Guide booklet that shows you what to do with your child at that age, why (the research behind it), and how to do it.
The Play Guide includes:
✨ Baby and You: a breakdown of what you will observe your baby doing in the first 12 weeks, what they will experience developmentally and how to support this development
✨ The Playthings: a breakdown of each item in the kit including "how to do it" and "why do this" sections. The "why" sections are so informative and my favorite part of the book.
✨ More Activities: these too include information on "how to do it" and "why do this." Some of the activities from our infant kit included are creating a peaceful space, bonding and feel good hormones, baby massage, and strong legs.
It is an incredible resource backed by research, it's an easy read and I have learned so much from it.
This was the perfect kit for an infant, as it included everything we needed for our newborn (and some that we wouldn't have even thought of)!
What's The Quality Like?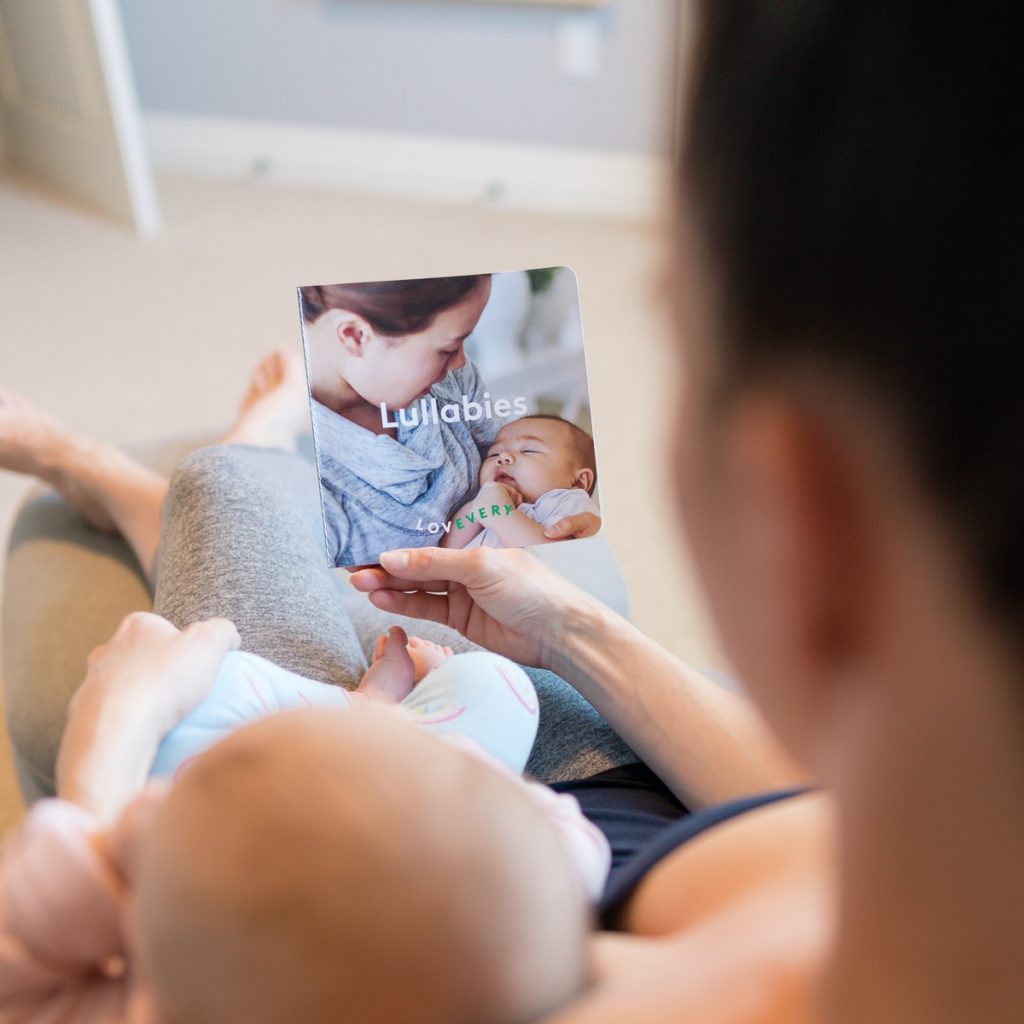 We were very impressed with the quality of everything we received.
The toys seem to be well made and the presentation of the toys was beautiful making it a fun experience opening the box when it arrived at our door.
The kit came with a "Materials and Care" booklet that explained how to care for each toy in the kit, and explained what each item was made from.
You can really see the care that goes into each product from the material description. For example "Organic cotton fabric with baby safe vinyl pockets" or "FSC sustainably harvested wood with water-based nontoxic finish."
And from their website "Lovevery brings academics, researchers, and practitioners from a wide range of disciplines together for a holistic approach that is simple, accessible, and relevant to you and your baby."
Lovevery gets an A+ in quality from us.
Are The Lovevery Montessori Toys Worth The Price?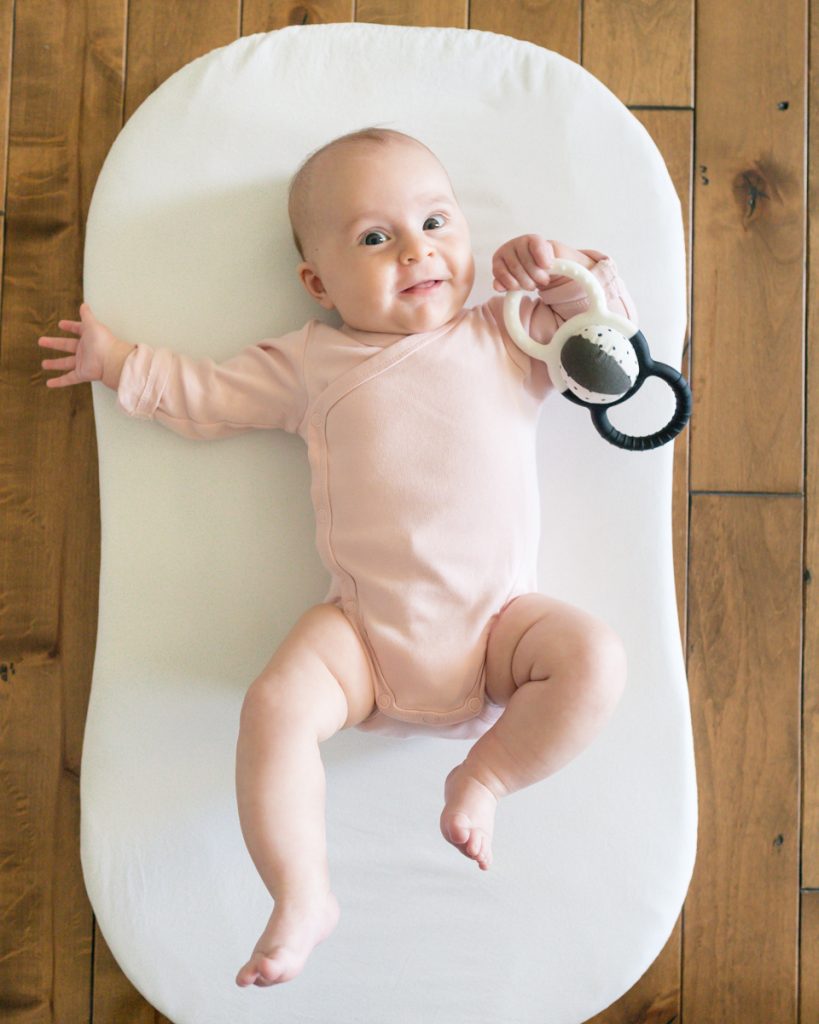 Of course, this will depend on the family but for us we love the simplicity of receiving toys in kits and don't mind paying a bit of a premium for the convenience.
Sometimes it's difficult finding Montessori-based toys and staying on top of buying age-appropriate toys can be laborious.
A subscription service like Lovevery is a great solution if it fits in your budget.
Keep in mind that because the toys seem to be high-quality and a good majority of them are wooden, they should last for years and/or have a good resale value when you're done with them.
On the other hand, if you enjoy shopping for Montessori toys, love finding thrift treasures, or want to save money on toys the subscription model might not be for you.
The question of "Is Lovevery Worth It?" really comes down to your personal preference and budget.
For what you're getting with high quality Montessori toys, convenience, and the learning experience that they provide with the booklets included with the play kits I think Lovevery is a great purchase.
If you do choose to sign up for Lovevery you won't be disappointed. They have an amazing 4.9 rating across 3074 reviews – which is almost unheard of in the online world.
The Lovevery Experience – Wrap Up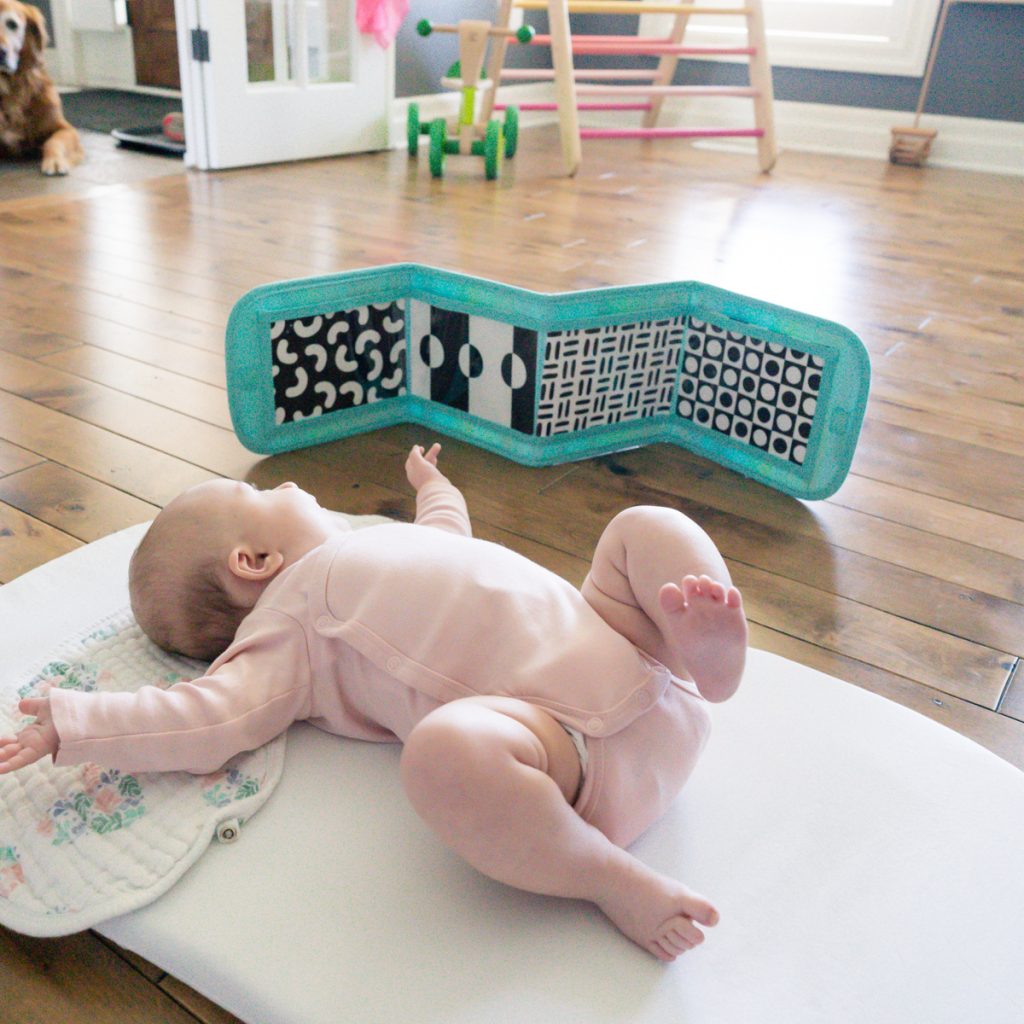 We hope this gave you some insight into the Lovevery Play Kits and helped you make a decision on whether you want to sign up.
I can't say enough good things about the toys and kit that we received, and as a Montessori family, we love that the toys are all Montessori-based.
It was so nice to have a complete set of infant toys delivered to us during a busy time with a newborn, and the convenience factor alone would make it worth it for most busy parents.
We also received a Lovevery Block Set that retails for $90 that we will review in a future post, so make sure you bookmark our blog if you're interested in that.
If you're ready to make a purchase or just want to learn more visit Lovevery.com <- we've partnered up with Lovevery and this is our affiliate link where we will earn a small commission at no additional cost to you!