Our latest Montessori furniture purchase was a new child-sized Alba Wardrobe from Sprout Kids.
Prior to this wardrobe, we didn't have anything in our daughter's room that would allow her to be independent with her dressing.
At 18 months old, we knew she would be ready to start helping with her outfit choices and after using the Montessori Alba Wardrobe for close to a month, I'm ready to give my thoughts and review on it for anyone interested in purchasing a wardrobe for their little one.
Why A Wardrobe Is A Great Montessori Purchase
First I just wanted to quickly touch on why you might consider purchasing a wardrobe if you are practicing Montessori at home.
Allowing your child to chose their own clothes will show respect to your child as you allow them to choose what to wear, and at the same time will help them develop a strong sense of self.
You will also be teaching them the important practical life skill of dressing themselves – promoting independence and self-pride.
We started this process at 19 months old, but it is something that can be done much earlier (and we will be getting a wardrobe for our second child much earlier)!
Ok, let's get into the Montessori Wardrobe review…
The Purchasing Process
We purchased the Alba Montessori Wardrobe during their initial launch pre-sale after being very happy with our Weaning Table and Chair set from Sprout.
The cost of a finished wardrobe was $220 USD (plus shipping). They do have options to add legs to the wardrobe or purchase a wider version (both adding to the cost) or buying it unfinished ($40 cheaper).
At checkout, they also had upsell options for bins that would fit perfectly in the wardrobe, but we decided not to get those (and ended up finding our own locally).
The wardrobes started shipping towards the end of November and ours showed up in early December.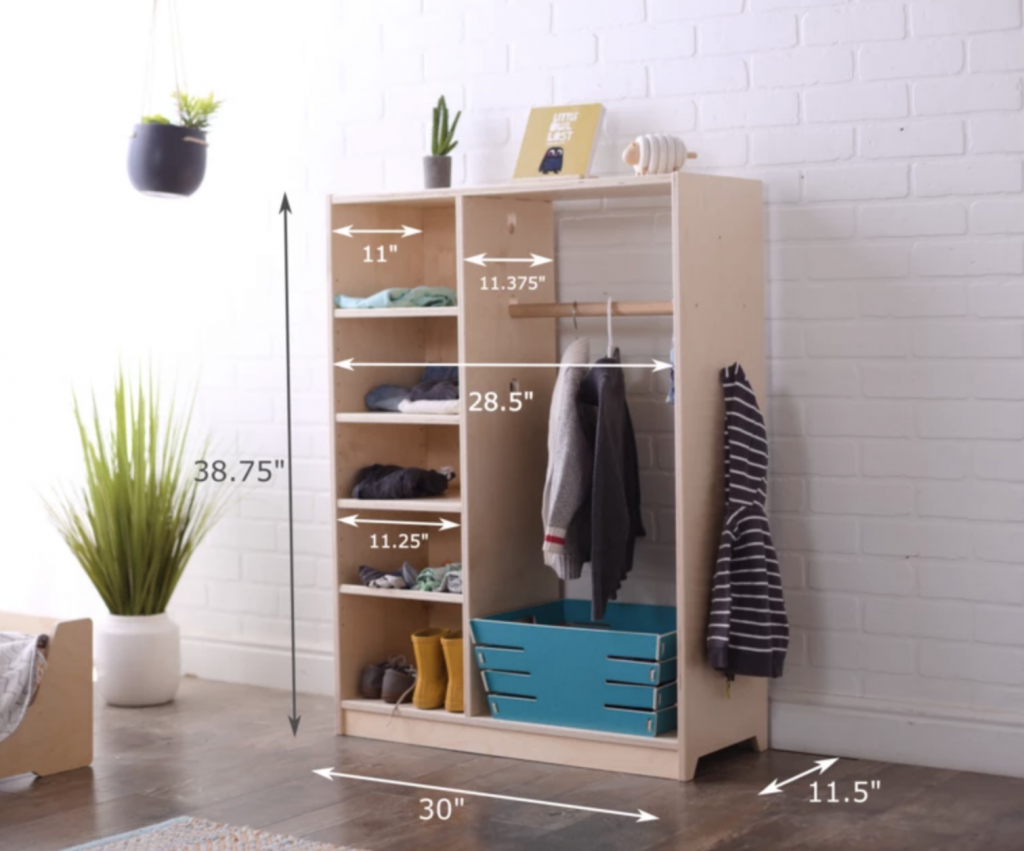 Wardrobe Assembly
I wanted our daughter to see me setting up her new wardrobe so that she could see the process of something being built for her (I feel that would make her appreciate it even more).
So I started the assembly process before she left for school, thinking it would take me an hour or so to get it all put together.
The entire process must have taken 20 minutes max, as no tools were required and the instructions were extremely easy to follow (having prior experience with setting up Sprout Kids furniture might have helped a little bit too).
Sprout Kids uses a unique (patented – I think) method for piecing together their wood that makes installation very easy with no tools needed.
Each piece of wood has a tab on the end that slides into a slot on the piece that it connects to, and you just slide it in and apply a bit of force to get it to fit in snug.
Overall the assembly was extremely easy and fast, and because it took about 1/3 of the time that I thought it would our daughter was actually able to see the finished product before she left for her Montessori school!
How We Set Up Her Wardrobe
A big part of the Montessori Method is allowing your child to be independent, so we knew that we wanted to have clothes and outfits on display that she could choose from.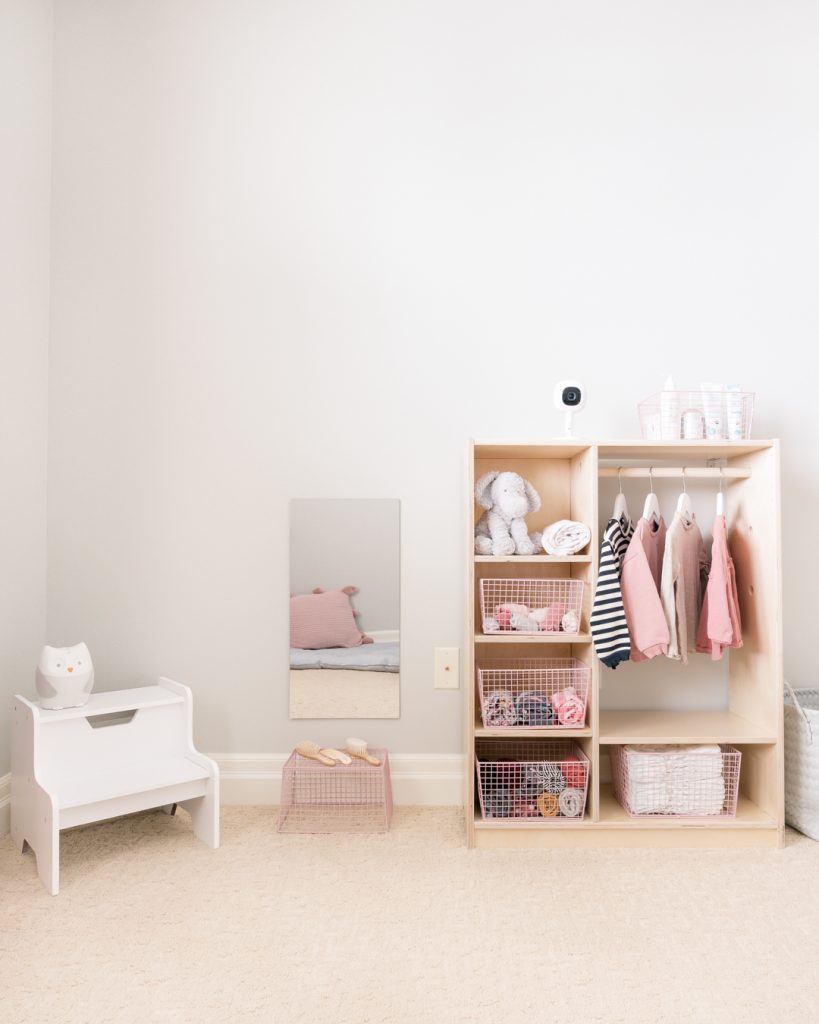 We re-arranged her room to put the wardrobe in her main area of the room and decided we would leave clothes that were out of season in her closet so that the wardrobe only had clothes that were suitable for her to choose.
We hung a handful of shirts on the hanger and put baskets along the shelves with socks, pants, and pajamas.
At our daughter's age, we guide her into choosing clothes that match (ie. we let her choose the shirt and then we grab matching pants for her)…
But as she gets more independent we know she will want to pick her own complete outfits, so when that time comes we plan to just set out 2 of everything that matches so she can fully pick her outfit without our help.
Our Thoughts On The Alba Montessori Wardrobe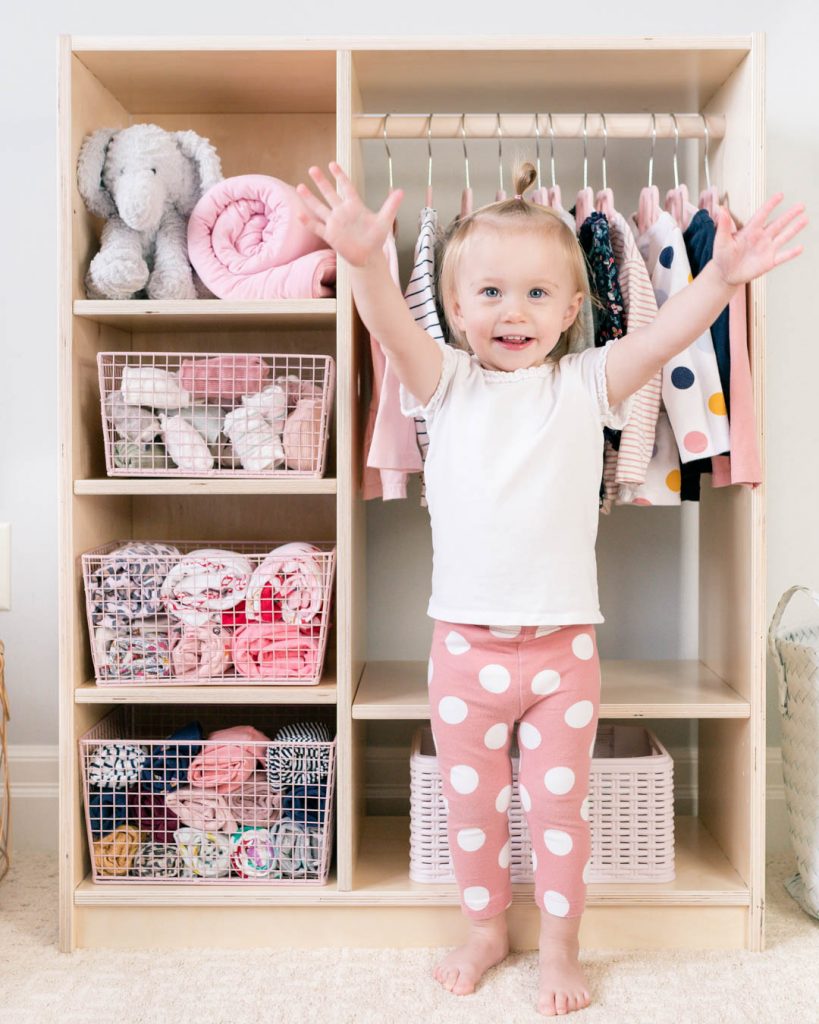 Overall we are extremely pleased with everything about this Montessori Wardrobe (as you can see from K's smile in the above picture)!
At 38″ high this is the perfect size for our daughter who is just under 2 years old.
With adjustable heights for the hanging bar, it would be a great height for any toddler who is walking and it allows them to grow into it for years to come.
The unit is sturdy and seems to be of very high quality.
We also love how everything is adjustable so that we can change the heights of the shelves to fit exactly the way we want to set it up and we can change it up down the road if needed.
It came with a wall mounting kit that we will be using as we transition our daughter to a floor bed (meaning she will be unsupervised in her room), so that's a bonus too.
And lastly, the wardrobe is absolutely beautiful as well. It makes for a great addition to K's Montessori inspired toddler bedroom and is something we are proud to have on display.
Final Montessori Wardrobe Recommendation
I have to give this wardrobe a 10/10 for quality and build, as I don't have a single knock that I can think of that I would change.
SAVE 10%! – After posting this review we got in touch with Sprout Kids and they set us up with a 10% OFF Coupon Code "OMJ"! If you are interested in purchasing the weaning table and chair set you can find it here and remember to use the code OMJ on checkout.
I will update this review if that changes down the road, but right now this is the ideal Montessori wardrobe that we would have created if we could have made a custom wardrobe ourselves.
If you factor in pricing you can argue that it would drop down to a 9/10, as at a base $220 it is fairly expensive. But you have to pay for quality right?
I think the price is very fair given the build and quality.
If this wardrobe fits in your budget and you are looking for a Montessori inspired wardrobe I would highly recommend the Alba by Sprout Kids (you can click here to view it on their website – make sure you use the coupon code OMJ).
Do you have any questions about the Alba Montessori Toddler Wardrobe? Let me know in the comments and I will try to help you out!