We recently finished our bedroom switchover from a traditional nursery to a Montessori inspired toddler bedroom, and are ready to give a little tour of our daughter's new bedroom!
It started with the transition from crib to floor bed at roughly the 20-month old mark, and we have used the last couple months to put the finishing touches on her new bedroom.
Let's break it down by area and then we will also include a full bedroom video tour at the bottom of this post as well.
The Floor Bed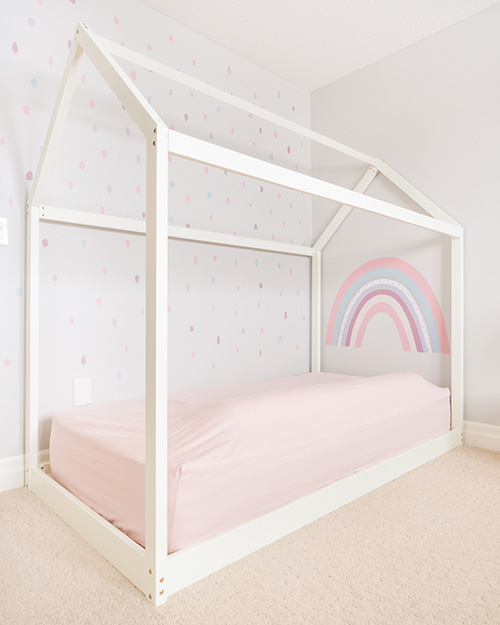 This house floor bed was purchased from CocoVillage (twin size). It allows the mattress to sit fairly close to the ground, but we made the mistake of buying a thick mattress.
Because the thick mattress makes for a higher drop off if K were to roll out of bed in the middle of the night, we purchased a Foam Bumper from Amazon that prevents her from rolling off in her sleep.
Overall we are happy with the floor bed set up we have for K, and the transition has gone well.
Activity Shelf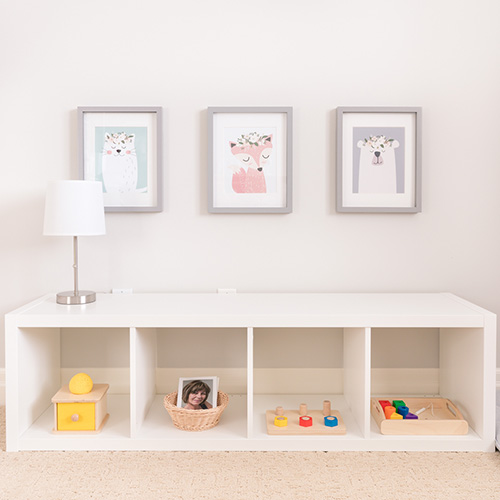 The shelf in her room is one of our recommended Montessori IKEA purchases – the Kallax Shelf. This was designed more as a bookshelf, but if laid down horizontally it works great as an open Montessori-style shelving unit that will allow easy access to activities for toddlers.
On the shelf, you will see a few Montessori toys from MontiKids (along with one DIY activity).
The MontiKids toys are from their Level 6 Box and are beautifully made wooden toys that K has really enjoyed since we introduced them.
We've partnered up with MontiKids and you can receive a $60 discount by using this link and the coupon code JOURNEY on checkout!
Reading Nook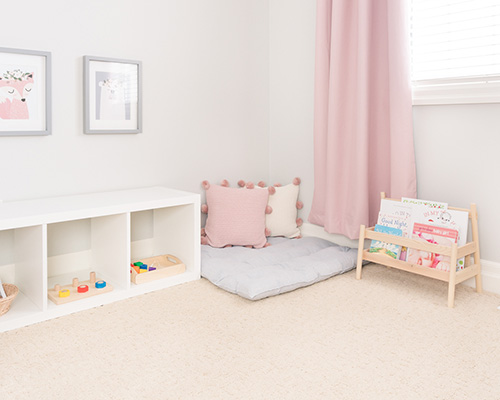 Although we usually read to her before nap and bedtime in her bed, we knew we wanted a nice comfy place to read in her room for other times we spend in her room (and to allow her to look at books somewhere independently when she wakes up).
We started the reading nook off with a beautiful floor cushion from Nursling Co and finished it off with a few pillows bought at Homesense in Canada.
The bookshelf is the IKEA Flisat Book Display, which we will usually display between 5-10 books on (lately we've cut it down to 5 or 6 because our little one insists we read through all the books before nap/bed 😊).
Dressing & Self-Care Area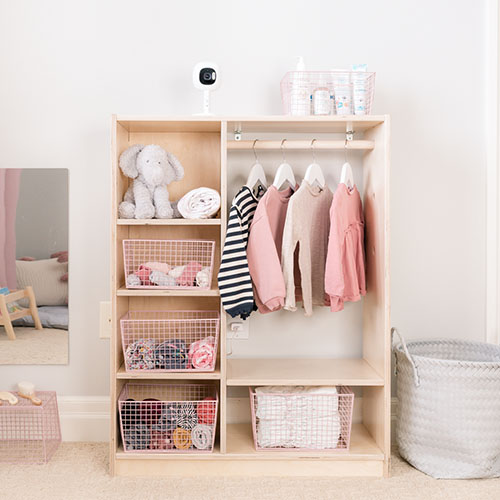 The featured piece of furniture in K's self-care area is the Sprout Kids Alba Wardrobe.
This is my favorite piece of furniture in the room, as it gives K the opportunity to choose her own outfit for the day and will help her learn how to get dressed on her own (and it also helps us keep her room tidy and organized)!
In order to keep her outfit choices weather-appropriate, we will hang two shirts/sweaters and place two matching pants on the shelf below. This gives her the choice of what to wear while allowing us to make sure that the clothes she picks make sense for what we've got planned for the day. 🙂
K does like to pull out the baskets and take the clothing out, but not nearly as much as we expected her too (if this is something you think your little one would be into we would suggest just putting a limited number of items in each section/basket and storing the rest in a closet or dresser).
If you are interested in the Wardrobe you can check it out here and use the code OMJ for 10% OFF!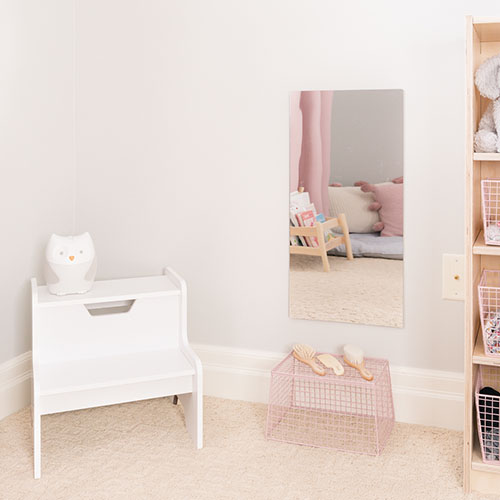 The self-care area includes an Acrylic Mirror from Amazon, a Melissa & Doug stool (although we weren't pleased with the quality of it), and a Toddler Brush Set from Amazon.
We have a couple of full-body mirrors that she can access in the house, but it's so nice for her to have one in her own room. This mirror made from acrylic is safe (shatterproof) and was easy to hang with 3M strips.
Wall Decor
One simple difference with decorating the child's room in a Montessori way that I love is having the artwork at the child's level.
Currently, we have some animal prints we found on Etsy that we printed out and framed hung above her shelf (frames are from HomeSense).
We also often print our own photos and "hang" them up on her wall at her level using painters tape for temporary wall art that we can easily switch out.
The paint color we chose for her room is Benjamin Moore Gray Owl, and we finished it off with some beautiful Rainbow & Animal Spot Wall Decals from My Hidden Forest.
Other Notes About Our Montessori Toddler Bedroom
We use the Nanit Baby Monitor to keep an eye on her when she's in her room. Overall we are pretty happy with the Nanit monitor, but there have been issues with the streaming cutting out (it's gotten to a point that the CEO has had to send out a few emails apologizing).
For a sound machine, we use the Skip Hop Owl Sound Machine and have been happy with it (although we switched to a different sound machine for the nursery which I will share in a future post).
The safety outlet covers we bought from Amazon are great for childproofing and they look nice too.
Montessori Bedroom Video Tour
Final Thoughts
We are extremely pleased with how everything has come together in K's Montessori inspired toddler bedroom.
We tried to keep it simple, functional and a beautiful space for her to enjoy.
K enjoys helping, and having everything at her level has allowed her to help with small tasks like putting her dirty clothes in her hamper, picking out her clothes for the day, choosing what books we read, or turning on the sound machine before bed.
It has also provided her with the freedom to get up and move around when she wakes up, instead of having to wait for us to come to get her out of her crib (this should be especially useful when baby #2 arrives soon).
I know I love Montessori bedroom tours for ideas and inspiration, so I hope that you enjoyed ours – let us know if you have any questions about anything in the room. 😊