Originally written in January 2020. Updated in December 2020.
With K heading closer to her 2nd birthday I figured it would be a good time to look back at some of her favorite Montessori toys as a 1 year old.
(We usually refer to Montessori toys as activities, because they serve a purpose other than just playing with them – but the two can be interchangeable and we will use both in this article)
Of course, a lot of changes happen during the 12-24 month period so the toys she played with and worked on throughout the year have been changing as well.
To give you an idea of when she started with each Montessori toy listed I will make the list in the order that we introduced each activity to K.
Our "Best Montessori Toys For A 1 Year Old" List
Vertical Stackers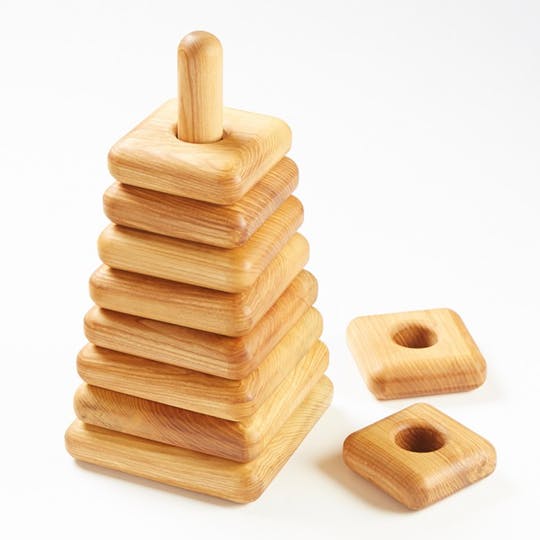 The vertical stacker toys come in all different shapes and sizes, allowing you to rotate multiple different stackers in your toy rotation to keep your little one engaged.
The stacker pictured above is a large, heavy wooden stacker that we purchased for K at 17 months. It is about 10x the size of the first wooden stacker she started out with!
Vertical stackers have been a favorite of Ks since roughly 10 months old, but she really started mastering and enjoying them most after her first birthday.
Her interest in stacker toys ran strong for a while but has recently slowed down (at around 19-20 months old). We will still continue to rotate them into her Montessori shelf now and again as that interest may come back!
Musical Instruments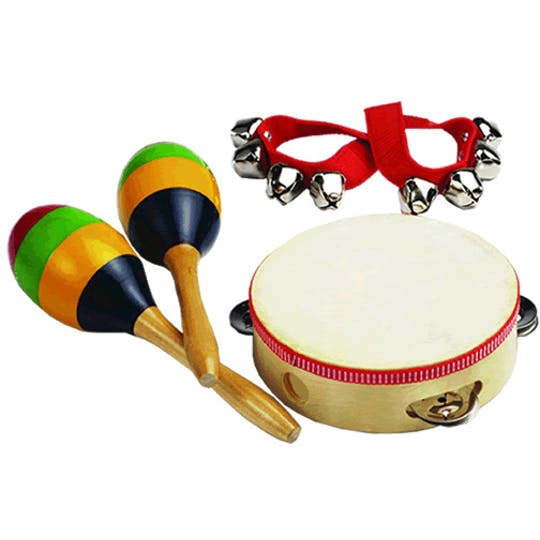 Musical instruments are a toy that should be a staple in all Montessori playrooms.
Besides building fine and gross motor skills by picking up and shaking the musical instruments, studies have shown that musical instruments create more pathways in the brain and speed up brain development.
We started with shaker instruments before K turned 1 year old, and she has continued to love the maracas and bells throughout her 2nd year too.
She's also been enjoying a xylophone, tambourine, and a drum on her shelf.
The 1 year mark would be a great time to introduce a variety of musical instruments to your little one if you haven't already.
Push Toy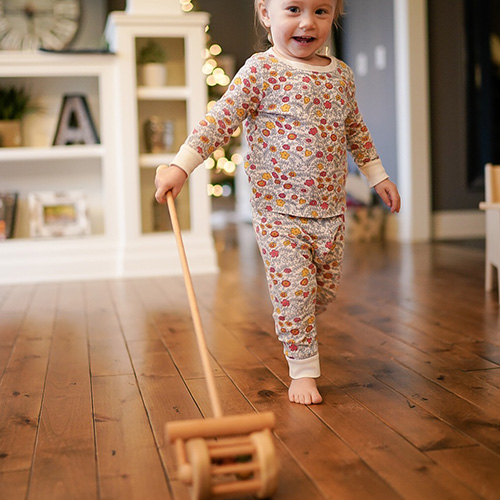 As your toddler starts to walk, a push toy is great to encourage more walking and provide them an entertaining activity to do at the same time.
K started walking at 13 months and was introduced to a wooden push toy at her Montessori school at around 16 months.
We ended up buying a beautiful handmade wooden push toy from Etsy at around 18 months old and 3 months later she still pushes it around with a smile on her face almost daily.
This is a great toy for gross motor development and something that we keep out at all times for her.
Looking for high-quality Montessori Toddler Toys? We've partnered up with MontiKids and you can receive a $60 discount off your first box by using this link and the coupon code JOURNEY on checkout!
Pull Toy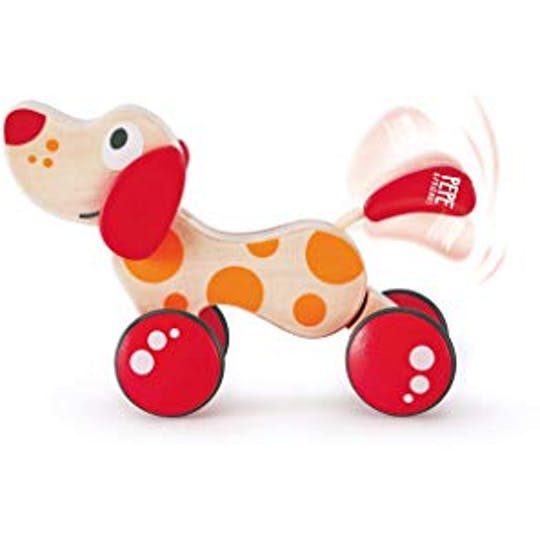 A pull toy is very similar to a push toy, but requires a bit more coordination from the child.
I would recommend starting with the push toy and then progressing to a pull toy.
I can't remember that exact time that K starting using a pull toy, but I believe it was about 2 months after she started walking.
This is a great gross motor toy to improve a toddler's coordination and balance as they master pulling something as they walk.
Pull toys can come in all different shapes and sizes. We received the wooden dog pull toy pictured above as a gift, and K loves reenacting walking the dogs (we have two golden retrievers at home).
Like the push toy, this is also something K still really loves doing at almost 21 months old.
Wooden Puzzles
Puzzles are an amazing budget-friendly activity that are great for toddlers.
Simple wooden puzzles are excellent for language development (for example naming each animal as they pick them up), fine motor skills and hand-eye coordination, problem-solving (having to rotate the pieces of the puzzle), shape recognition and memory.
We started with a simple 3 shape wooden Montessori puzzle, and have now moved onto a little bit more "advanced" puzzles (similar to the Hape puzzle pictured above).
K absolutely loves doing puzzles right now and they make a great toy to include in a 1 year old's Montessori toy rotation.
Figurines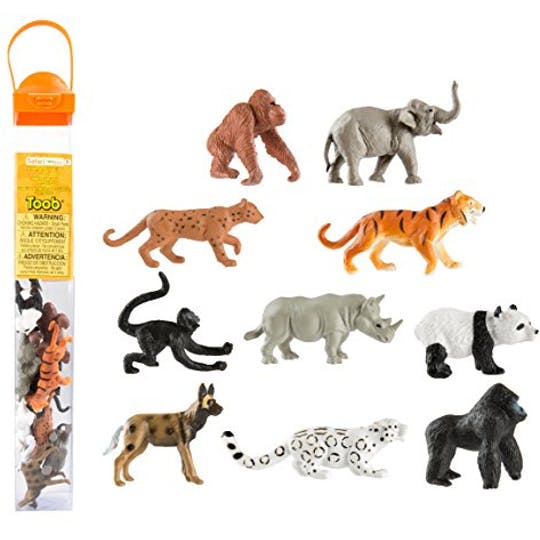 Real-life figurines are exceptional for language development in toddlers.
K has a variety of different sets of Toob figurines, including safari animals, arctic animals, pets, and things that fly in the air.
The possibilities are endless with these figurines and they make for a great learning toy.
We started by showing K each figurine and saying what it is – for example, "this is a gorilla".
Later we moved into asking "where is the gorilla?" and then matching the figurines to identical sets or printed cards.
These figurines have been great for her language development, and she always loves working on activities with them.
Monti Kids Toys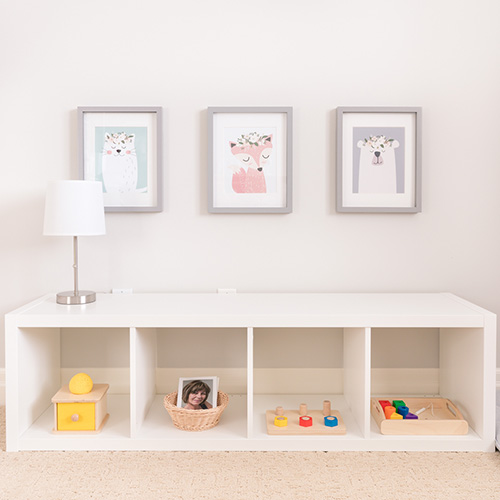 This Montessori company has created a toy subscription for Montessori families with kids ages 0-3 years old. With a subscription, you will receive a kit of Montessori toys every 3 months.
The play kits are created by Montessori educators and are based on the curriculum used in Montessori schools. They are also sustainably sourced being manufactured that uses sustainably-forested wood, non-toxic paint, and 100% recyclable packing.
Each kit "level" shows the age of the child (by month) that they are best suited for – although we've found that the toys are great for many months after the provided age.
As an example, in the 14-17 month kit, you will find a pull toy, multi-shape puzzles, curved dowel, coin box, a box with bins, and more.
Our daughter received her first play kit toward the second half of her 1-year-old year and has loved the Monti Kids toys. As parents, we love it as well because it cuts down the time we have to look for Montessori toys that are age appropriate.
If you are interested in learning more about Monti Kids, We've partnered up with them and you can receive a $60 discount off your first box by using this link and the coupon code JOURNEY on checkout!
Want More Montessori 1 Year Old Toy Ideas?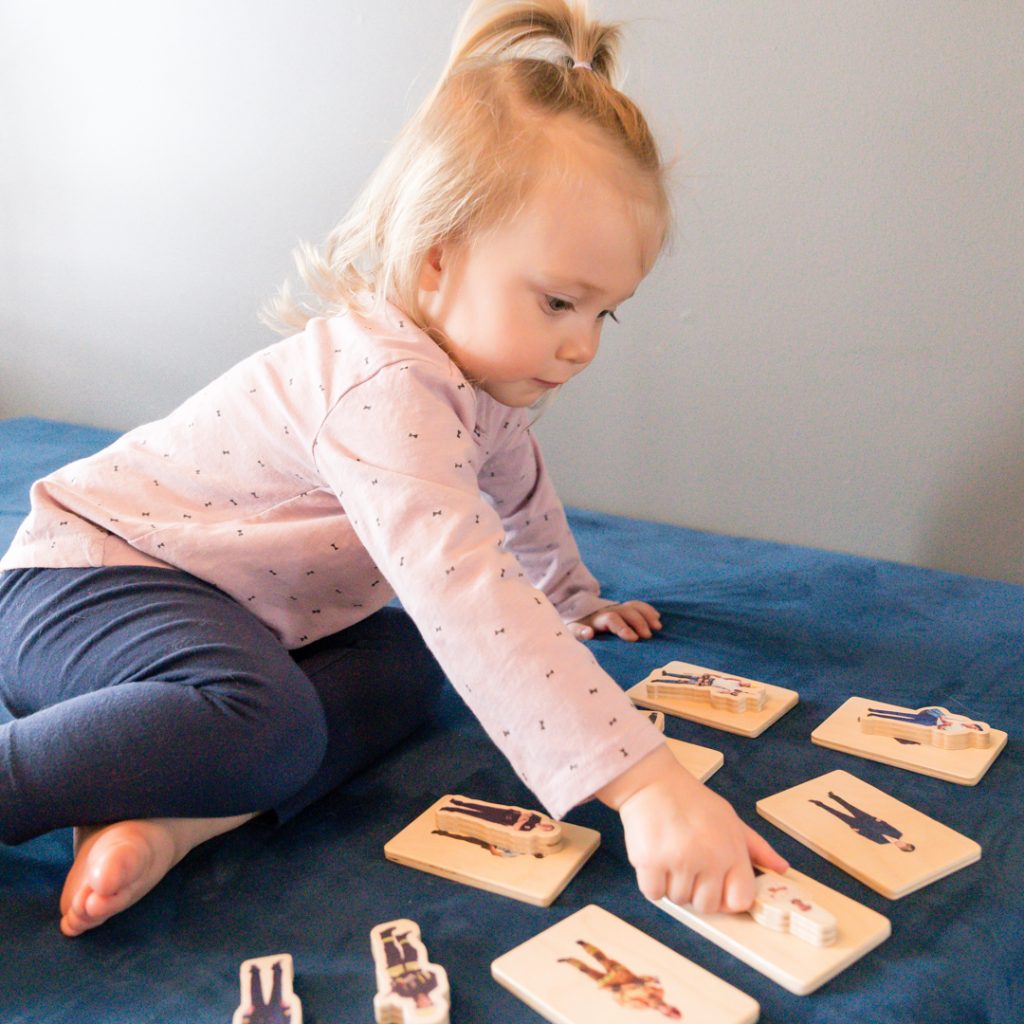 These toys were all taken from our Montessori Toy guide, which lists even more toys for 1 year olds if you are interested in finding more Montessori toy ideas for your little one.
What is/was your 1 year olds favorite Montessori toys? Leave a comment below if you have any not on my list (we have another little one on the way and are always looking for more ideas)!