#dadpost
I was introduced to the Montessori approach by my wife shortly before our daughter was born through Instagram.
She had sent me a few Instagram posts from mothers who were sharing tips and information about the Montessori Method and that got me really intrigued to learn more.
Instagram is still the #1 place that I get information and ideas about Montessori from on a daily basis, so I thought it would be a good idea to share my favorite Montessori Instagram accounts in a "best of" list.
(Disclaimer: I'm not a big fan of writing "best of" lists because I know I will leave out and forget about some great accounts we follow, but I will do my best to include as many great accounts as I can)
Before we get to the list, I want to mention that our account is @Our.Montessori.Journey if you want to give us a follow – we would love to connect on Instagram!
My 16 Favorite Montessori Instagram Accounts
I am sure there are many more great Montessori themed Instagram accounts out there, but here are my current top Montessori accounts to follow in 2020 (in no particular order):
Although this list isn't in any particular order, I had to start with my favorite account to follow.
This Instagram account was the first Montessori account my wife shared with me before the birth of our daughter and was my first view into the Montessori life.
The mom that runs Montessori In Real Life is a certified AMS Montessori infant/toddler guide and now full-time mama living in the Pacific Northwest (USA).
She has a 2-year-old daughter 'D', who is the star of the Montessori Instagram account, but has also recently welcomed a beautiful little boy 'S' into the world!
D is the cutest little girl who is already so smart, independent, and responsible (way beyond her years) – which was proof to me that the Montessori approach was definitely worth looking into.
What makes this one of the best Montessori Instagram accounts to follow is that, as her Instagram handle indicates, she shares real-life experiences of the Montessori lifestyle.
She posts a mix of great images and videos and includes a lot of valuable information in her captions. She is posting at least a few times per week and is very active in Instagram stories as well.
On top of her Instagram account, she runs an amazing blog MontessoriInRealLife.com where you will find posts an even guides for purchase (at a very fair price, too)!
If you want to incorporate Montessori into your parenting you need to follow @MontessoriInRealLife and definitely check out the videos of D!
This account is run by Simone Davies, author of The Montessori Toddler (if you haven't read this book, it is a must-read).
This Instagram account is just one of many platforms that Simone shares her insights on – you can also find blog posts here and videos on her YouTube channel.
She is a Montessori teacher and mother of 2 children who have attended Montessori right up through primary school.
Simone, based in Amsterdam, did her training through the Accosiciation Montessori Internationale (AMI) and has been working in Montessori education for nearly 15 years.
Although she isn't posting too frequently, her posts are often extremely valuable and the account deserves to be on this "best of" list.
I recommend everyone give her a follow @TheMontessoriNotebook – but more importantly, go buy her book ASAP!
I wanted to give a shoutout to this newer Instagram account I came across recently who already has a number of great Montessori posts.
The owner of this account, Kari, has posted in her account that she's learning Montessori and Homeschooling. She is a mother of 2 boys.
Kari is a great photographer and shares some beautiful images of her boys playing, learning, and living the Montessori inspired life.
One reason I wanted to include this account on my "Best Montessori Instagram Accounts" list is that, from what I can tell, Kari is just a mom learning Montessori without any formal education or certifications.
Sometimes the best way to learn is learning from someone who is just one step above you. I love following teachers and educators – but following "regular" Montessori moms is awesome too!
Kari has been posting images every few days lately, and I hope she keeps it up as I really enjoy her posts. Please give her a follow at @OurMontessoriStory
Kylie is the mother of 3 boys. She is from Australia, but currently living in the UK.
I couldn't find information on whether or not she was a Montessori educator, but she did mention she discovered Montessori when her oldest was 6 months old (so roughly 11 years ago).
Kylie co-authored a children's Montessori themed cookbook in 2012, and although I haven't read it, I'm sure it's great like all of her other Montessori content. She also runs a great website called HowWeMontessori.com where she blogs regularly.
The Instagram account contains a lot of great videos and images from around her home with her three sons. I love how it provides lots of great Montessori based activities for at home.
Although she isn't posting too regularly lately (I can imagine she's got her hands full with three boys!), you can scroll through her past posts for hours looking at some great past Montessori Instagram posts.
Kylie's blog and Instagram account @HowWeMontessori are both great follows.
This mum and blogger, Valentina, is a teacher from Germany and Montessori Lover. Although she speaks German, she translates her posts to English as well.
Her beautiful daughter Cosima is the star of her Instagram account as she documents her Montessori experiences.
You need to check out her little kid's kitchen. Cosima is preparing food and even cutting tomatoes!
Valentina also runs a great Montessori blog called OurMontessoriWay.com. With Google Chrome it gave the option to auto-translate the website from German to English, and everything was translated great.
I highly recommend checking out both the website and the Instagram account @OurMontessoriWay.
This Montessori mom has the most gorgeous Montessori Instagram feed, with many of her pictures coming from their Chicago apartment that is beautifully lit by natural light.
If you are interested in the floor cushions pictured above, this Montessori mom sells them on her website. We just picked one up for K, and they make the perfect cushion for a little Montessori reading nook!
Oh, and if you are in the Chicago area she also runs a Montessori playgroup!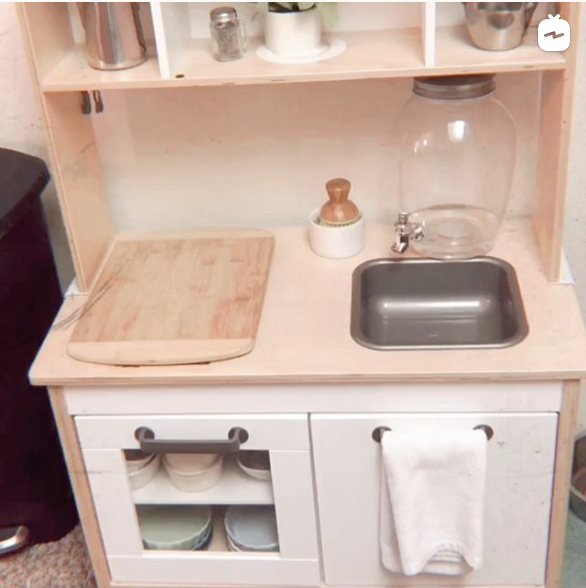 This Montessori mom documents her journey with her daughter Roo (the cutest little girl)!
If you are trying to make Montessori work in a smaller space you need to check out this awesome video tour of her home.
We love following her posts, as Roo is just a bit older than K so we get some ideas on activities that we can do soon and a glimpse of what we can look forward too!
On top of that, Ashley especially loves her posts because of how relatable and down to earth she is.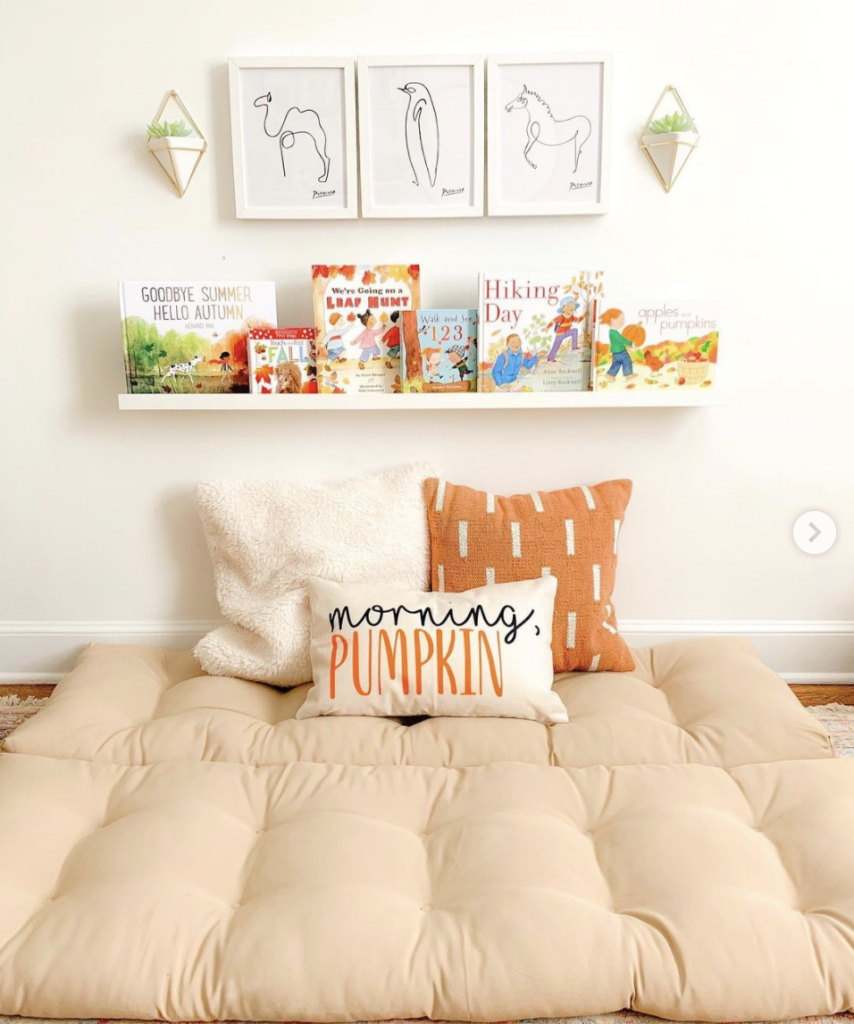 This Instagram account documents Sonny's Montessori life. Sonny is a cute 2-year-old who is featured in many of the posts and stories, and is a joy to watch engaging with his activities and Montessori spaces.
Speaking of spaces, this account features some of the most beautiful Montessori spaces I've come across. If you want some inspiration for your home, this account is a must follow. Mom is doing an amazing job!
I love how creative mom is with the activities she sets up for Sonny. We've gotten so many great ideas of activities for our little ones from her posts and shelfie pics. We are so glad to have come across the Sonny's Montessori account 🙂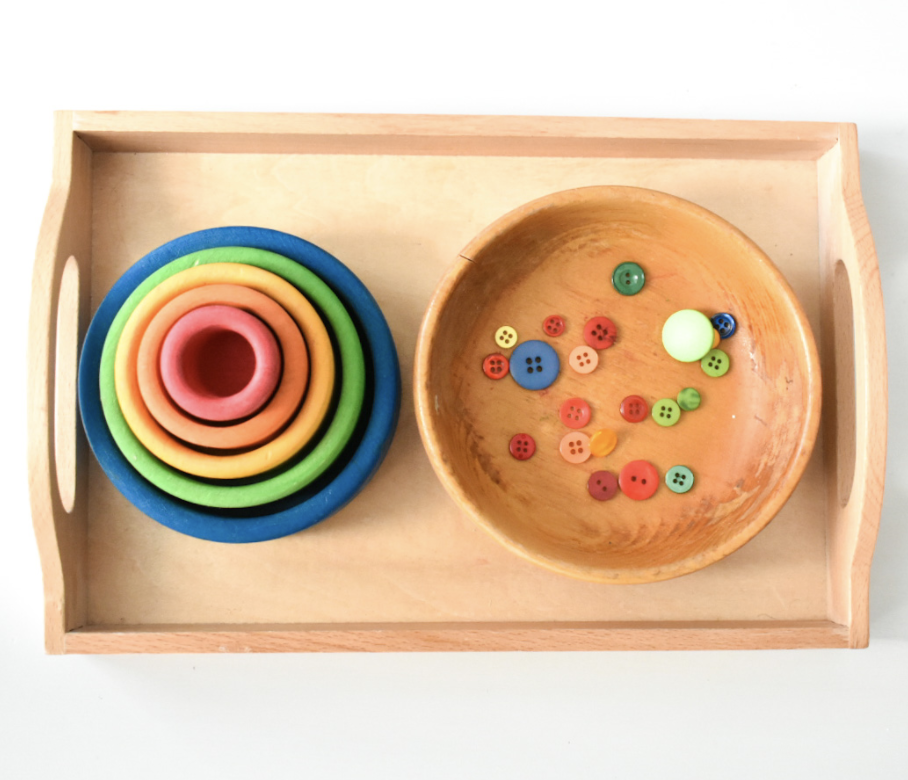 Katie, a mom of 3 boys (with the newest addition coming just weeks ago!), runs a great Instagram account full of creative Montessori inspired activities for little ones.
With her older boys being 2 and 4 it makes for a great account for us to follow, as we are constantly saving her posted activities to do now and in the future as our girls get older.
I know this post is about Instagram accounts, but Katie writes at a "must follow" blog called Teacher AndTheTots.com. She has so many great posts written there, with my favorite being the "Montessori Inspired Shelf Activities" for different ages where she shares all the activities she has laid out on the boys shelves. Go check it out and give it a bookmark!
Julie is an AMI trained Montessori educator, former Primary Guide, and parent of three grown children. She is helping families bring Montessori principles and inspiration into their homes through The Prepared Nest.
You will find posts nearly daily on her Instagram account, with a focus on younger children between the ages of 0-6 years old.
I love learning from Julie, as her posts are always so well thought out and explained with a lot of detail!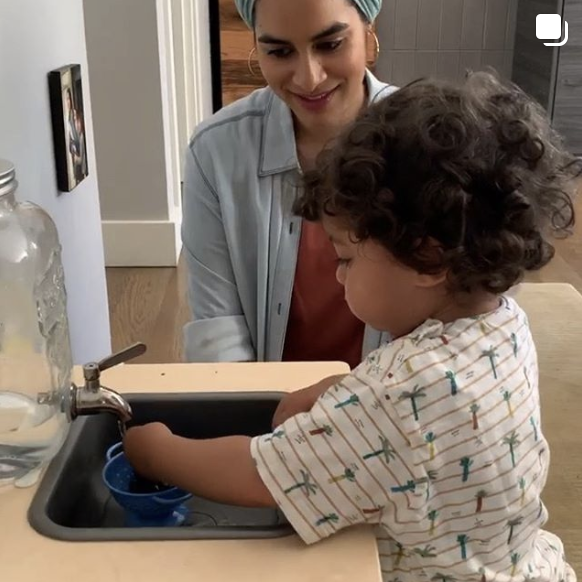 Monti Kids is a Montessori toy subscription service that will provide parents with age-appropriate Montessori toys every 3 months (plus guidance and support for the parents as well).
Their account is great to follow, as they repost a ton of great pictures and videos from various Montessori parents (our K has been featured many times on their feed)!
This account is run by a Montessori Mom (Caroline) who has a son 1 month younger than our K, which makes everything she posts extremely relatable for us.
We always enjoy the blog posts that she links too from her Instagram, and the Montessori "infographic" style images she has been posting recently.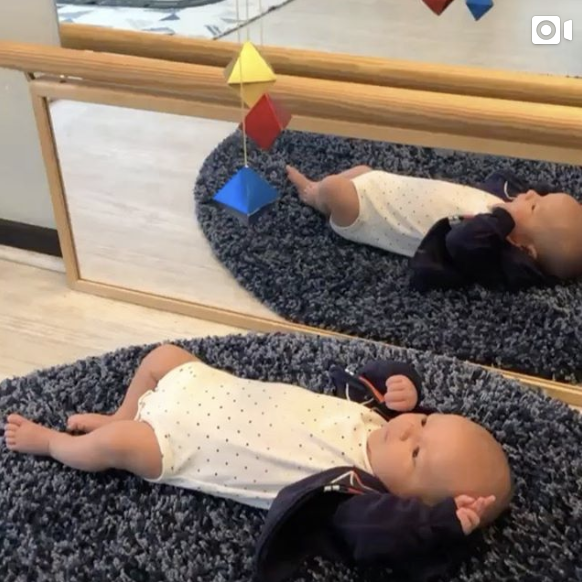 If you've looked into Montessori online you've probably come across Nicole's Instagram or website – The Kavanaugh Report. She has been blogging about Montessori since 2009 and has a lot of great wisdom to share about Montessori parenting!
Nicole is a mother of four beautiful children (3 boys, 1 girl) and always shares great pictures and videos on her Montessori based Instagram account. She's also active on Instagram stories, so make sure you tune into those as well!
My favorite posts from her account are the tours and look into their new multi-use, multi-age Montessori playroom that balances everything perfectly for all four children. You've got to check out this playroom (we love the 3 massive windows that allow for a ton of natural light)!
This account is run by Bridget, a Montessori mom of two (a little boy and girl). She has a great eye for photography, as she is always posting beautiful pictures of their Montessori inspired home and life.
My favorite video on her account is of their stairs, where they set up a kid-friendly rail to give her kids independence getting up and down the stairs.
Bridget has teamed up with another one of our favorite Montessori follows (Theresa from Montessori In Real Life) to put out a couple of wonderful Montessori guides that you can purchase on her website.
Gemma is a stay at home mum to her beautiful son Elijah, who is 3-years-old. They live in Perth, Australia.
She describes herself as a "wooden toy addict" 😀 and it's something you will notice right away with her Instagram feed.
The theme to her Instagram account is "Elijah's Playroom" and it includes gorgeous photography of Elijah and his toys (with some images from outside of the playroom as well).
Gemma includes great captions with her beautiful photos too.
I will warn you though… looking at all of Elijah's amazing toys might have you pulling out your credit card to add toys to your own playroom. ☺️
You can also find some great posts on her new website ElijahsPlayroom.com. Go check it out and give her a follow at @Gemma.Leigh.R.
Steph is a mom to two beautiful little ones Eleanor (4) and Gerard (2), with another one on the way!
As a photography nerd myself I was immediately hooked to her scrolling Steph's Instagram feed. Her photography is absolutely stunning.
Many of the images are from their playroom, which is both Montessori and Waldorf inspired (and absolutely amazing as you will see from the photos).
If you're looking for toy recommendations or ideas for activities for your little one(s) I highly recommend giving Steph a follow @Steph.SOJ on Instagram!
Did I Miss Any Montessori Accounts?
Do you know of any that should be listed here? Let me know in the comments
And again if you don't already follow our Montessori Instagram account @Our.Montessori.Journey, where we share our Montessori journey with our Daughter, we'd love to connect with you there!