K is going to be a big sister!
We are expecting another baby girl in March 2020.
It's funny how quickly time passes with your second compared to the first, as it feels like we just found out we were pregnant, but we couldn't be more excited for Spring 2020 to roll around!
K and her sister will be roughly 23 months apart. I can't wait to watch them grow up together.
Now that we're into the 2nd trimester and we know the sex of the baby, we've started to talk about the preparation we need to do leading up to March.
Preparing K To Be A Big Sister
One of the most important topics we've discussed is preparing K for a baby.
We know that it's common for the first baby to have a little bit of a tough time dealing with the change to the family, so we want to do our best to prepare her for the transition.
The first thing we've done is purchased the book "You Were The First" by Patricia MacLachlan.
This is a beautiful book with a great message and gorgeous illustrations.
Another tip that I heard from Montessori in Real Life (Theresa) on a recent podcast episode was to involve your firstborn in as much as you can with the second baby.
Theresa mentioned that her little one would be involved by doing things like going to the doctor's appointments to listen to the heartbeat, and she's adjusted very well since their second was born.
We are trying to include K with as much as we can involving Baby #2 so that she can feel like she is apart of the process.
We also know that alone time with K is going to be important when our second arrives.
I'm lucky to be able to work from home when necessary, so Ashley and I will be able to spend alone time with K when Baby #2 is born.
It can be a little sad thinking about how K won't be our only baby, but we've heard the quote "Your love doesn't get divided, it multiplies" and that's a perfect way to think about it.
We know K will continue to get just as much love from us, and I'm confident she will be a great big sister!
Preparing The Home Montessori Style
We didn't start Montessori parenting right away with K, as we were just introduced to Montessori close to when she was born.
That means this is the first baby that we are going to be following the Montessori approach at home from birth with, and we couldn't be more excited!
Baby #2 will take over my upstairs office room. We haven't made any official plans on what we will do with the bedroom, but stay tuned for future blog posts on that when it is getting prepared.
One significant Montessori inspired change that we do know we will be making is with the Montessori style playroom.
We plan to create an area of the playroom for Baby #2 that will include a comfortable mat or carpet, a mirror at floor height, and an infant pull up bar.
We've gotten inspiration from other Montessori parents including Nicole who posted this picture in one of her blog posts: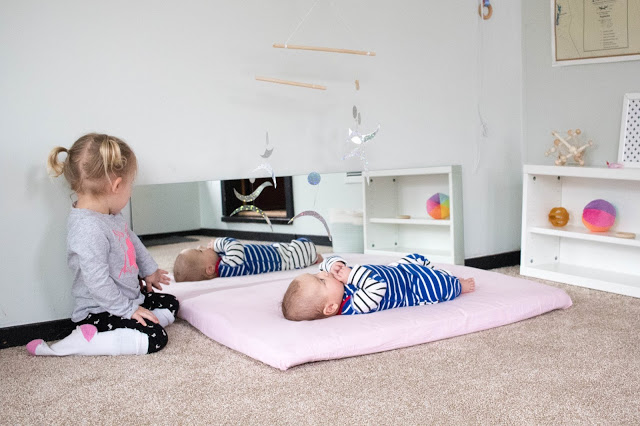 Our playroom has enough space for a second shelf, so we've purchased an infant shelf from Sprout Kids.
We debated splitting up K's shelf into the top for her and the bottom for Baby #2, but thought since we have the room, we might as well give them each their own shelf for activities.
I'm really excited about putting together a newborn space with my wife since we've learned so much since our first!
Right now, we are early on preparing our home Montessori style for the baby but will be sure to include updates with pictures as we set up our home.
We can't wait to share our Montessori journey with two little ones in the spring!
Update – We've since welcomed Baby "E" to the home and wrote a post about how we prepared K for a new baby sister that might be helpful for anyone who has a toddler and expecting another baby!